Two Dream Goals Helped USA to a Legendary Tie With Portugal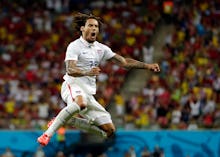 Things weren't looking so great for the United States in Sunday's critical World Cup match against Portugal at the Arena da Amazônia in Manaus, Brazil.
A defensive miscue led to a fifth-minute goal for Nani that gave Portugal a 1-0 lead.
The history didn't augur well. The U.S. was 0-16-4 in World Cup matches when allowing the first goal. Portgual's record when scoring first was 11-0-0.
But just after the hour mark, Jermaine Jones finally broke through.
And less than 20 minutes later, U.S. Captain Clint Dempsey punched home the go-ahead goal.
Portugal managed to eke out a stoppage-time goal to draw 2-2 with the U.S., but the magnificent back-to-back shots by Jones and Dempsey mean the Americans will live to fight another day.
Watch for the 64th, 81st and 95th minutes on this heat map to see how Twitter reacted to the critical goals.