The UN Is Being Called to Prevent a Major Humanitarian Crisis ... in America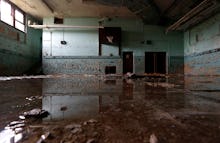 The news: The UN Special Rapporteur on the Human Right to Safe Drinking Water and Sanitation works to address water scarcity issues in places like sub-Saharan Africa, eastern Asia, parts of the Middle East ... and now, Detroit?
Last week, local nonprofit the Detroit People's Water Board, Food and Water Watch and the Canada-based Blue Planet Project sent a formal request to the UN, pleading for the international organization to step in on what they're calling "a major water crisis as a result of decades of policies that have put corporate business and profit ahead of the public good and human rights."
"The Blue Planet Project, Food and Water Watch, the Detroit People's Water Board and the Michigan Welfare Rights Organization are outraged about the violation of the human right to water and sanitation in the city of Detroit and call on the authorities to take immediate action to restore water services and stop further cut-offs," the coalition said.
How did it get this bad? In March, the city of Detroit announced it would start shutting off the water of up to 3,000 homes and businesses a week to combat the increasing debt the Detroit Water and Sewerage Department (DWSD) has been racking up. The DWSD holds $5 billion in debt; the entire city is $18 billion in the hole.
According to the Detroit Free Press, nearly 50% of DWSD's 323,000 accounts were behind on payments as of March, resulting in $175 million in outstanding bills. "We really don't want to shut off anyone's water, but it's really our duty to go after those who don't pay, because if they don't pay then our other customers pay for them," DWSD spokeswoman Curtrise Garner told Al Jazeera. "That's not fair to our other customers."
But are they being fair to their customers? Not really. While the nation's average water bill comes in around $40 a month, Detroiters have reportedly seen their rates double in the past decade and are now paying an average of $75 a month. Those rates are likely to go up even further very soon.
Even when customers are paying their bills, the water's still not flowing. From an email sent to the Michigan Welfare Rights Organization on May 27:
"Yes, my water has been shut off since Friday, May 16, and I have paid my bill in full ($32) on Monday, [May] 19, and still do not have water due to the extreme hurdle one has to comply with to get it turned back on, [including producing a] deed to the property, lease agreement-notarized, mortgage documents, tax records, driver's licence, social security cards, notarized statements from the owners of the property, background checks, etc. My father's house is in probate court and I cannot have the water turned on!"
The best solution? While the DWSD certainly does need to combat their burdensome debt, going after the city's weakest residents — residents who are already struggling in Detroit's wavering economy — is not a good solution, especially for something the UN has declared a basic human right.
While it's no big secret that Detroit has been facing some tough financial times, the fact that a group of concerned citizens is actually turning to the UN for help demonstrates just how big a problem this has become and how little faith Detroiters have in their own government.