A Radical School in France Has No Curriculum, Teachers or Lesson Plans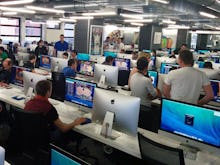 Imagine school without teachers, books, grades, dorms and tuition. 
That's the sort of education you will find at École 42, a school in Paris that focuses on training young students to become the world's most oustanding programmers. It's the sort of learning space that could revolutionize the way we view education.
Founded by French telecom magnate and founder of French ISP Free Xavier Niel, the school will allow students to set their own pace for studying and focus on project-based, peer-to-peer learning.
According to school director Nicolas Sadirac, who's also an entrepreneur, the goal is to create the next generation of innovators. He says formal academic training can hinder education by teaching students to follow a rote learning model rather than think outside the box and be innovative, smashing the rigid teaching methods and curriculums found in many educational systems around the world.
The school is not officially accredited and there is no state-sanctioned degree awarded at the end of the intensive course. But the school accepts up to 800 students per year between the ages of 18 and 30 with a highly competitive admissions process.
The school responds to a very real crisis in France today: a growing youth unemployment problem currently at a 14-year high of 10.6 percent. Meanwhile, the French government says as many as 60,000 computer coding jobs are thought to be vacant in France due to a lack of qualified candidates.
Housed in a former government building, the school is filled with rows of Aeron-style chairs, Macs with big cinema displays with the monitors staggered to allow for students to talk to each other easily. The school is open 24 hours a day, with a fully stocked cafeteria in the basement. It also aims to inculcate working habits that companies look for in programmers, including productivity, collaboration, self-investment and a passion for lifelong learning.
Image Credit: Facebook/École 42.
"We don't want to teach them stuff," Sadirac told NPR. "We want them to find solutions on problems because we don't know the problem in the future. So we are creating students able to learn by themselves."
While radical schools like École 42 won't be replacing traditional schooling anytime soon, it's becoming more clear that coding unlocks the sort of education that has been missing from our system here at home. 
It's a crisis that is important now, more than ever, to tackle. U.S. students are falling far behind their international counterparts. Some of this lies on the shameful treatment of teachers in the U.S., but much of this lies on the stifling and rigid one-size-fits-all education that students receive in the United States.
In fact, some schools are showing just how successful students can be when they are placed in classrooms that empower them rather than focus on regurgitating what it takes to pass standardized tests. 
Beaver Country Day School, in Chestnut Hill, Mass., is the first in the United States to use coding in all of its classes: not just the ones that fall under STEM.
Beaver Country Day Head Peter Hutton told Mashable that today's education system is "preparing our kids to go to work in 1988. Certainly not 2020."
In the past 50 years, half of economic growth in the U.S. has come from technological innovation. But it looks like that might be under threat: When it comes to math and science, U.S. students are outranked by 29 and 22 countries in these categories, respectively.
When traditional education has failed some of today's biggest innovators — from Microsoft founder Bill Gates to Facebook founder Mark Zuckerburg — it's certainly a model worth thinking about.