The Conspiracy Theorists Who Want USA and Germany to Tie Need to Read This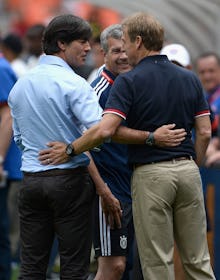 There's going to be speculation. Heck, there already is.
When the United States and Germany meet in the World Cup in Recife on Thursday, all U.S. coach Jürgen Klinsmann and his German counterpart (and friend) Joachim Löw have to do, practically speaking, is get their teams to kick the ball around and not score. Both teams would advance to the Round of 16 and both coaches would have done their job: Löw to win Group G, Klinsmann to advance out of the so-called Group of Death.
Such a tie would be cynical, the very antithesis of World Cup competition. That's why, however tempting it might be for U.S. fans to wish for 90 minutes of nothing on Thursday, they should be rooting for another game full of entertainment and drama. They should be hoping for the U.S. to advance, of course, so long as it comes as the result of an honest competition.
Germany notably has a history of collusion when it comes to World Cup matches. West Germany's satisfaction with kicking the ball around with Austria after taking a 1-0 lead during their 1982 World Cup match, ensuring both countries would advance, prompted international condemnation. The Nichtangriffspakt von Gijón (nonaggression pact of Gijón) is precisely why the final group-stage games now always start at the same time, making collusion more difficult.
Image Credit: AP
Simultaneous kickoff times, however, do little to prevent the occurrence of a mutually beneficial tie, which begs the question of whether anything can be done to prevent such a shameful display. Luckily there is, and hopefully it will be out in full force on Thursday: honor.
The five German-Americans on the U.S. team may not want to celebrate scoring against their home country, but they should be as motivated as ever to prove themselves on the world's stage against their compatriots.
The same goes for Klinsmann, whose team's recent performances have done much to disprove assertions that he was a mere motivational figurehead, and the beneficiary of his assistant coach Löw's tactical brilliance when the two helped lead Germany to the 2006 World Cup semifinals. On Sunday, Klinsmann said the Americans "will give everything to beat Germany," thereby winning the group and ensuring an easier path in the knockout stages. There's no reason not to believe him.
As for Germany, Die Mannschaft shouldn't be satisfied with a draw, especially after having already tied Ghana. With Spain eliminated from the tournament, Löw's team is Europe's best hope to raise the World Cup trophy. In other words, Germany's fans should expect the team to defeat the Americans.
In the past three World Cups, there has been one similar situation where a third-game tie would have been beneficial to both sides. That happened in 2010, when Mexico and Uruguay both had four points heading into their final group game. The New York Times wrote that it would be "silly … to expect Uruguay-Mexico to end in anything except a mutually beneficial tie." Fortunately the Times was wrong, as Uruguay won 1-0.
"Both teams played to win," Uruguay's coach Oscar Tabarez said after the game. "Some things are necessary. To be honest, for instance, to be sincere."
On Thursday, soccer fans shouldn't hope for anything less than that.