Pixar's Next Movie Is a Game Changer for Young Girls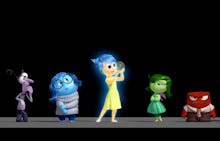 For the first time since 2005, Pixar is not releasing a movie this year, but their next film Inside Out (slated for 2015) is already getting audiences excited.
Inside Out might not be landing until next June, but Pixar's decision to make a female-led movie that does not involve any princesses is a game changer. In Western animation, at least.
The film is about 11-year-old Riley, a hockey-playing girl who moves to San Francisco because of her dad's new job. In the process, her emotional core is thrown into chaos. The film takes on the slightly meta task of taking place inside Riley's mind, with the movie characters being Riley's own emotions: Joy (voiced by Amy Poehler), Sadness (Phyllis Smith), Disgust (Mindy Kaling), Fear (Bill Hader) and Anger (Lewis Black).
Pixar's first female buddy movie, set literally inside a female brain, is as far from the princess trope as possible.
Image Credit: Disney/Pixar
Riley and her heavily female team of side characters are unusual for animation, at least American animation and the dirth of non-princess female characters has been widely felt. In 2009 NPR's Linda Holmes wrote a piece entitled "Dear Pixar, From All the Girls With Band-Aids on Their Knees" asking for rougher-round-the-edges women in animation.
"The story is never 'a girl and the things that happen to her,'" argued Holmes, "the way it's 'a boy and what happens to him.'" At the time, Pixar had never featured a female lead, and even after Brave they had never featured a non-regal girl principal whose main interactions were with another woman.
Pixar — so often ahead of the curve — has floundered in making movies with female leads or even more simply making movies that feature substantial interaction between two female characters. Even their parent company and princess-pushers Disney have made ordinary girl leads several times: Lilo and Stitch, for example, or Mulan.
But even more than Disney, Japanese animation house Studio Ghibli has become world famous (and Academy Award winning) for not only top quality animation, but animation that focuses on female leads. Finally the American counterparts are following suit.
With Spirited Away, an inquisitive, female, 10-year-old protagonist led the film. Ghibli's leader Hayao Miyazaki says he was inspired by his friend's daughter. The inspiration story is not unlike what director Pete Docter cites as his inspiration for Inside Out, his own daughter. The two films will likely face comparison as animated films set apart by focusing on what it's like to be a young girl.
Ghibli has also made several other female-led movies: An adaptation of Diana Wynne Jones' Howl's Moving Castle features the shy but eventually courageous Sophie as its lead. Nausicaä and the Valley of the Wind, Miyazaki's first movie, stars a kickass woman.
Then there's Kiki's Delivery Service, about a trainee witch who becomes a town's postal agent. All of them are young girls on important journeys of self-discovery usually reserved for male leads, even if their allies on these missions are external instead of internal. And they are just the tip of the iceberg.
The fact other that companies got the importance of female leads memo earlier shouldn't, and won't, deter Pixar from making a prime example of lady-led storytelling in Inside Out. Their female characters so far, whether it be Mrs. Incredible, Dory or Merida, have been fantastic creations. And this film promises by sheer numbers alone far more woman-to-woman dialogue than past movies.
But possibly the best thing about Inside Out? The creators aren't overthinking their revolutionary female-heavy cast.
"Joy just felt like she'd be female," said producer Jonas Rivera. "It wasn't something that we engineered or overthought — it just felt right to us." Which might mean we're in for the least self-conscious, most natural portrayal of women in an animated movie to date.