One Absurd Quote Sums Up What Even Our Closest Allies Think About the U.S.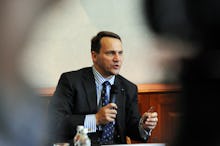 The quotes: "[The alliance] is downright harmful because it creates a false sense of security. ... Complete bullshit. We'll get in conflict with the Germans, Russians and we'll think that everything is super because we gave the Americans a blow job. Losers. Complete losers." This TMZ-worthy quote came from one of Poland's top officials. 
On Monday, Polish magazine Wprost published the full conversation of a leaked recording where Foreign Minister Radoslaw Sikorski says that the "Polish-U.S. alliance isn't worth anything." 
The unverified conversation reportedly took place in the spring between Sikorski and Jacek Rostowski, Poland's former finance minister. The foreign minister took to Twitter to claim that he had never been to the restaurant where the recording supposedly happened, but is officially waiting to comment on the allegations until they have been fully publicized. 
Sikorski's comments point to unsteady ties with U.S. allies. Poland is a major global ally for the U.S. In 2003, the country firmly backed the U.S.-led coalition in Iraq. And for sticking their necks out, the Poles hoped to receive an economic boost from the U.S. in return, but instead felt mostly underappreciated. Obama pushed to strengthen ties though with renewed vigor in 2011. 
But by 2012, the golden age of relations had passed, according to the Economist. And echoing Sikorski's sexual metaphor of the useless nature of the Polish-American relationship, the Economist article went on to say that it is "like a companionable marriage where convenient sharing of chores, rather than romantic passion, has become the main bond." 
Fundamental shifts are taking place with other key alliances. Poland isn't the only ally that is on the rocks with America. Japan and Germany also hold strong ties with the U.S. which are being tested. 
"A fundamental shift in interests and outlook is leaving the United States and Germany with potentially irreconcilable differences," the Washington Post reported in 2012. Recent revelations that as part of the NSA surveillance program, the U.S. is spying on German citizens, including German Chancellor Angela Merkel, and it's straining relations. Since these revelations, Germany has been distrustful of the U.S., and likely remains skeptical.
Japan-U.S. relations became tense when Prime Minister Shinzo Abe visited a controversial war shrine in December 2013. The U.S. issued a statement of "disappointment" about the event, which resulted in months of rocky relations. 
A little background on Poland's foreign minister: The recording may jeopardize Sikorski's international political ambitions more than anything else. Poland officially put him forward as a candidate to succeed the EU's current foreign policy chief. 
Once a loyal supporter of the U.S., Sikorski has waned recently, especially when the U.S. scaled down its missile defense plan in Poland after U.S. President Barack Obama tried to "reset ties to Russia" in 2009. He has also criticized Russia's actions toward Poland's neighbor, Ukraine, and asked for U.S. military presence on Polish soil. 
What's at stake with the released recordings? U.S. alliances are a major asset to the country's economic, political and geopolitical standings. Peeking into foreign opinions, some of America's closest allies feel upset with their relationship and the U.S. stands to lose a lot by isolating them.
In this case, if the Sikorski claims are substantiated, it will be interesting to see if Polish-American ties will be rattled in the aftermath.