Master of Creep Robin Thicke's New Video Proves He Still Believes That No Means Yes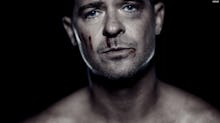 You know when your boyfriend breaks up with you but can't stop following you around and texting you, even though you asked him not to? Imagine that he turned that behavior — which, by the way, is sometimes called a "felony" — into a full-blown album, music video, tour and social media campaign named after you.
That would be how Robin Thicke is paying his bills this year. Welcome to the patriarchy, where men can publicly stalk women and get richer at the same time. 
To promote his new album, Paula, master of creep Thicke has just released a video that takes one of the creepiest videos of all time, "Blurred Lines," up to new heights of creepiness. It would be impressive if it weren't so deeply offensive.
The video shows a bloody, dejected and pitiful Thicke compulsively asking Paula Patton, his estranged wife, to come back to him. Real-life Patton recently left him after a series of embarrassing viral photos, one of which he took only a few feet away from her, made it evident that Thicke was a serial cheater who couldn't be trusted.
After the split, Patton told People that "Robin acting like that with me makes me think there were many more. [...] It's a shame because when you have a kid, it's upsetting."
Image Credit: Instagram
It isn't clear exactly why they broke up, but judging by the (fictional or nonfictional) texts, it was about him "drinking too much" and "embarrassing" her. It was also because of Thicke "raising his voice" and making her "feel small."
Best-case scenario, those are real texts and Patton gave permission for their use. Worst-case scenario, they are fictional and Thicke is using them to tell the version of the story he wants to tell about their breakup (as his Twitter header loudly proclaims, "Paula - Story by Robin Thicke"). Both scenarios sound equally awful.
Image Credit: YouTube
The video ends with an onscreen text message from Paula that reads "I have to go." Thicke then takes off his wedding ring. As a creepy silhouette walks slowly away, he texts back, "This is just the beginning."
Image Credit: YouTube
Because after she's decided to pack up and leave, that's really all a girl wants to hear from the guy who drinks too much and embarrasses her through alleged infidelity. Thicke doesn't take no for an answer; he takes it as an invitation to be more persistent. 
The twitter hashtags #GetHerBack and #Paula make his obsession palpable and, frankly, alarming. Again, it's unclear whether Patton gave permission or whether the texts are even real, but what is evident is that they are sending a very dangerous message.
According to the National Institute of Justice, the definition of stalking includes "persistent patterns of leaving or sending the victim unwanted items or presents that may range from seemingly romantic to bizarre" and "harassing the victim via the Internet by posting personal information or spreading rumors about the victim," all of which Thicke has wrapped up in one stalkerish video.
Even if Patton is in on all of this, the video normalizes stalking and disturbingly obsessive behavior, a problem 1 in 6 American women will face over the course of their lives.
Image Credit: YouTube
But according to the "Blurred Lines" theory of relationships, when a girl says no, it really means yes. According to Thicke's latest video, if you stalk her hard enough, you can #GetHerBack. The man who has hailed himself as starting a "feminist movement" while pontificating that it's "a pleasure ... to degrade a woman" needs to ditch the retro font and get with 2014. These days, the most soulful singers know it doesn't fly to make a career by glamorizing crimes against women. Let's make sure the subjugation of women doesn't sell records.
Isn't it time we finally stop Robin Thicke?
Let me know on Twitter and Facebook and use the hashtag started by Suey Park: #GetTheFuckOutOfMyLife.