There's Bad News for the People Who Swear by Nalgenes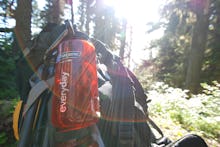 Image Credit: Flickr
Own one of these? You might want your money back.
The news: A new report finds that a host of BPA-free plastic containers still leach potentially harmful, estrogen-mimicking chemicals into the body.
Most containers leak the hormone-altering ingredients after being exposed to heat or sunlight, but some bleed the chemicals even before being taken outside or tossed into a dishwasher.
A report in the journal Environmental Health lists the culprits by name. Born Free baby bottles, CamelBak "eddy" kids sippy cups and Crate and Barrel wine glasses tested positive for the chemicals, with Born Free and CamelBak ranked with the highest concentration. Even Nalgene, the company made famous for its virtually indestructible, outdoor-adventure-friendly water bottle, is on the list.
Image Credit: Getty
What the heck is BPA and why does this matter? Bisphenol A is a synthetic chemical compound prized for its tough qualities and used in everything from plastic bottles to pipe linings.
This is all well and good, until the compound gets into the body. When it is ingested, the chemical acts like the reproductive hormone estrogen, which plays a role in everything from bone formation to brain development.
Scientists around the world have linked BPA to a number of health effects in mice, from breast and prostate cancer to genital defects in males, early onset of puberty in females, obesity and even behavioral problems such as attention deficit hyperactivity disorder. More recently, scientists have also demonstrated that humans with higher levels of BPA exposure are at increased risk for diabetes, obesity and cardiovascular disease.
The Canadian government declared BPA toxic and banned its use 2010. In the United States, the FDA banned baby bottle companies from using it in their products in 2012. Yet in seeking out replacements for the ingredient, companies have turned to compounds with similar detrimental effects.
The details: Scientists at a private Austin lab tested 50 reusable BPA-free plastic containers by exposing human breast cancer cells, which multiply in the presence of estrogen, to the chemicals inside them. In some cases, they ran their tests again after microwaving the ingredients or exposing them to UV rays such as the type found in sunlight. After exposure to UV light, more than 75% of the containers released synthetic estrogens.
Mother Jones produced this handy chart showing the container rankings before and after exposure:
The research also reveals some healthier alternatives: Topas and Zeonor water bottles, for example, came up clear on the chemical test. And if you want to stick with Nalgene, try the green one — the color blocks the damaging effects of UV rays.