The Most Heartwarming Moment of Pride Month Has Already Happened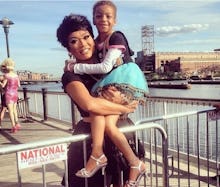 Last weekend at Rhode Island Pride, former RuPaul's Drag Race contestant Jujubee met a very special person.  
A contestant on the show's second season, Jujubee spoke candidly on the show about his upbringing in a large family of Laotian and Thai descent. 
"A lot of my aunts and uncles knew I was different from everyone else in the family and had different aspirations and dreams," Jujubee, real name Airline Inthyrath, said. "But they also knew I would work really hard. My sister designs a lot of my costumes."
At the parade, Jujubee was introduced to Jeffrey, a little boy who, just like Inthyrath, can already tell he's different than a lot of his classmates.
Image Credit: Facebook
Jujubee's "lil princess boy" is the beautiful and stylin' son of Starlie Becote, who was so grateful for the moment between her son and his role model that she left a thank you note on Jujubee's Facebook post:
Like many children who are gender-nonconforming — some of whom may or may not grow up to be transgender — Jeffrey's gender expression leaves him open to bullying from ignorant peers and strangers. But it's important to remember that he is just one of an increasingly large group of young children who are rapidly becoming the face of youth gender nonconformity. In just a little over three years, dating back to around the time J. Crew creative director Jenna Lyons dared to paint her son's toenails pink, there has been an increased visibility not only of gender-nonconforming children but also of their accepting and nurturing families.
In what is hopefully a positive indication of the increasing state of tolerance in American culture, the Internet has responded very differently to the photo of Jeffrey than it did to Lyons' son's toenails.
As of Tuesday morning, the photo had already received more than 18,000 "Likes" on Jujubee's Facebook page, and Jeffrey, his mother was quick to add, hopes to grow up to have a career in fashion. If that amazing skirt and high-heel combo isn't sign enough that Jeffrey is going to give RuPaul a run for his money — well, as the drag queen superstar is fond of saying, "You better werk!"
Twenty years ago, when Jujubee was growing up as a little "lady boy," the options for role models were limited. Jeffrey and fellow "princess boy" Jujubee's joyful chance encounter at an event set up to celebrate the full spectrum of identities is symbolic of just how much times have changed in the ensuing decades, bringing new meaning to the word "pride."