One Chart Shows the Tremendous Impact of Title IX on Women in America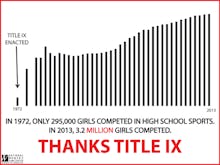 Title IX, the groundbreaking law forbidding sexual discrimination in higher education, turned 42 years old yesterday. Title IX, enacted on June 23, 1972, only needed 37 crucial words to alter the course of educational opportunities in America: "No person in the United States shall, on the basis of sex, be excluded from participation in, be denied the benefits of, or be subjected to discrimination under any education program or activity receiving federal financial assistance."
While Title IX has been invaluable for a number of reasons (sexual assault on campuses being one of them), it's legacy is perhaps most well-known for the way it helped promote women's sports and female athletes in general.
A quick look at the numbers shows just how strong of an impact the law has had. During the 1971–1972 school year, the year before the legislation became law, fewer than 300,000 girls participated in high school athletics. To put that number in perspective, just 7% of all high school athletes were girls. In 2010–2011, according to a report from the National Coalition for Women and Girls in Education (NCWGE), the number of female athletes had climbed by more than tenfold to nearly 3.2 million, close to 41% of all high school athletes.
Image Credit: National Women's Law Center via Feministing
While its biggest impact was seen in sports, Title IX has lead to increased protection for the rights for other underserved groups as well. According to the Department of Education, the rights of transgender or gender non-conforming students are protected under Title IX, as are those of pregnant and parenting students and victims of sexual harassment. Heartened by its other successes, Title IX proponents have also started using the law to fight for equality for women in science as well. 
But the law has also faced criticism from some who claim that Title IX has resulted in schools having to cut back on sports programs for boys and men. In an op-ed, for example, controversial academic Christina Sommers argues that Title IX "quotas" have all but decimated smaller, less lucrative sports such as men's swimming, diving, gymnastics and wrestling.
But women's groups have always debunked that as a myth. 
As these charts show, the increase in male athletic participation in high school and college has continued to increase since Title IX was signed into law by President Nixon, and it continues to outstrip the percentage of female athletic participation.
Image Credit: NCWGE
ESPN Magazine notes that the NCAA — the national governing body of college athletics — has also spent a good deal of time analyzing the effects of Title IX. Those studies, like the research from organizations like the National Federation of State High School Associations, have similarly come to the conclusion that the number of male and female athletes have both increased in the years since the law's enactment, and that despite all of the myths and misconceptions surrounding the law, Title IX has done disproportionately more good than harm for amateur athletics.
"Title IX is only powerful for women if there are strong men's programs and vice versa," Nancy Hogshead-Makar, a former Olympic swimmer and current professor at Florida Coastal School of Law, told the magazine.