How to Earn Big Bucks Fixing International Soccer Matches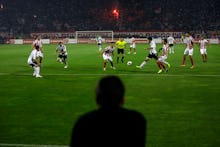 "Do [the players] ever say 'no'?" an undercover reporter asked Christopher Forsythe, a FIFA-registered agent who said he would be able to organize a series of fixed friendlies through his contacts in the Ghana Football Association.
'There is no 'no' in football. It's money," Forsythe says.
Those words were captured on a hidden camera as part of a Daily Telegraph investigation that threatens to cast a shadow over the World Cup. While lounging in a Miami five-star hotel, the ease with which Forsythe and the president of the Ghana FA speak of the fixings is startling.
The inconvenient truth of match-fixing, often thought of as only occurring in low-level leagues or amongst weak national teams, is rearing itself as soccer's showcase event takes place in Brazil. In a segment to headline Tuesday's Real Sports with Bryant Gumbel (10 p.m. ET, HBO), a broadcasting crew traveled to Italy, Hong Kong, Germany and France to speak with a convicted match-fixer, guilty former players and the lead investigator who is desperately trying to stop these low-risk, high-reward schemes that can occur anywhere in the world. 
Here are six of the most shocking revelations from the story:
One player allegedly drugged his own teammates with tranquilizers to ensure a loss.
Marco Paoloni, a former goalkeeper for Cremonese in the third division of Italian soccer, took to desperate measures after he was threatened by match-fixers in 2011. Paoloni allegedly drugged his teammates by spiking their water bottles with a type of tranquilizer, causing them to be lethargic throughout the game.
With a complicit referee, anything can happen.
A Bosnian referee was told to make sure that two goals would be scored in the second half of a World Cup qualifying match between Finland and Liechtenstein in 2009. Thanks to a phantom penalty call, that's exactly what happened. The referee, in turn, was allegedly given about $53,000.
If the referee isn't part of the fix, the fixers want at least six players in on the scheme.
"We want six men minimum to be on our payroll ... including the goalkeeper," an anonymous fixer in Hong Kong told HBO. "If you meet ... two guys, right, you tell them very simple, 'I want to get more players. Is there any way you can get [more]?' Then they do the recruitment for us. The best way is one guy contacting all of them."
35% of professional Western European soccer players admit to being approached by fixers.
Chris Eaton, the former head of FIFA security, said he had no idea that match-fixing was even a problem when he started working for FIFA as a security adviser in 2010. Having left the organization in 2012, Eaton says in retrospect he wished he had been given more power to stop the match-fixers who he says have reached out to more than one out of three Western European professional soccer players.
Match-fixing destroyed the legitimacy of the Asian leagues and now threatens to do the same in Europe.
Having already wrecked the trust sports fans (and gamblers) had in the Asian soccer leagues, match-fixing gangs located in Hong Kong and Singapore have infiltrated the Western European leagues, long thought to be harder to gain access to. Alleged fixes have occurred in England's and Germany's lower tiers, as well as the Champions League and Italy's famed Serie A. "If tomorrow, we go watch a game already knowing the outcome, football is dead," UEFA President Michel Platini said in 2013.
It's all about the money.
Carlo Gervasoni, a former Cremonese player who admits on camera to having taken part in multiple fixes, said the money was too much to turn down. Gervasoni was making around $2,500 a month but was paid more than $100,000 to lose a game by deliberately fouling an opponent in the penalty box. "I told myself, 'Why not?'" said Gervasoni, who received a five-year ban from soccer,. "In some cases, you felt like a piece of s---. But after the match — when I came home with lots more money — that made me feel a whole lot better."