Watch Uruguay's Star Forward Bite an Opponent at a World Cup Match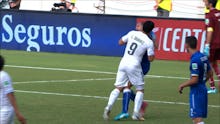 Uruguay's Luis Suarez appeared to bite an opponent during the final minutes of his team's critical Group D match with Italy on Tuesday at the Estádio das Dunas in Natal, Brazil.
The incident happened during a scuffle with Italy defender Giorgio Chiellini with the score deadlocked at 0-0 in the 80th minute. The players collided while competing for a corner kick and Suarez clearly threw his head in Chiellini's direction.
Another angle of the incident shows the Italian's shoulder appear to jerk back when Suarez's head makes contact.
Suarez in fact appeared to lose or damage a tooth.
Image Credit: Getty Images
Italy — playing with 10 men after Claudio Marchisio's red card in the 59th minute — protested in vain to Mexican referee Marco Rodriquez. While it's not 100% clear from the video what occurred, the bite marks on Chiellini's shoulder are indicting.
Naturally, one minute later, Uruguay's Diego Godin scored off a header to give La Celeste the goal they needed to advance — and send the four-time World Cup champions packing. It's the first time Italy will miss the knockout stage at consecutive World Cups since 1962 and '66.
After the match, Chiellini called for FIFA to use video evidence against Suarez.
Image Credit: Twitter
Incredibly, this is not the first — or even the second — instance of Suarez biting an opponent during a match.
He was given a 10-match ban for sinking his teeth into Chelsea's Branislav Ivanovic in 2013. And there was that other biting incident in Holland the year in 2010, which earned him a seven-match ban.
It's also not his first brush with controversy on the World Cup stage. 
With Uruguay and Ghana tied at 1-1 in the quarterfinals of the last World Cup, Suarez's intentional handball to prevent a winning goal in the 120th minute earned him a red card and worldwide condemnation — but ensured his team's improbable passage to the semifinals.
Suarez, one of the world's most devastating strikers, scored both of Uruguay's goals in a 2-1 win over England on Thursday. Afterward, he credited his mistreatment by the English media as his inspiration for revenge. It was unclear to what he was referring, but many believed it was Thursday's front page of The Sun, which made light of his toothy history.
It appears to have motivated the mercurial striker in more ways than one.