In One Tweet, Boxing Legend Evander Holyfield Wins the World Cup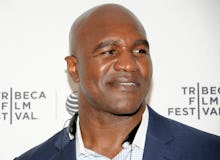 Tuesday was an odd day at the World Cup. During the final minutes of Uruguay's critical Group D match against Italy, Uruguay forward Luis Suarez bit Italy defender Giorgio Chiellini. 
Mic Sports Editor Bryan Graham notes that this is not the first time Suarez has bit an opponent. He was given a 10-match ban for sinking his teeth into Chelsea's Branislav Ivanovic in 2013, and in 2010 earned a seven-match ban for another biting incident in Holland.
In case you've been hiding under a rock, Evander Holyfield had part of his ear bit off by Mike Tyson during a boxing match contesting the WBA Heavyweight Championship in 1997.