Michelle Obama Said What We're All Thinking About the Possibility of a Female President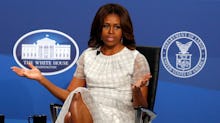 "That should happen as soon as possible."
That's what First Lady Michelle Obama told ABC News' Robin Roberts on Monday when asked about the possibility of the first female U.S. president. 
"And I think this country is ready," Obama added. "This country is ready for anyone who can do the job, and what we have learned is that the person who can do the job doesn't have a particular race or gender or background or socio-economic status. The person who can do the job is the person who is the most qualified. I think we have some options, don't we?"
A Clinton 2016 endorsement? Given former First Lady, former governor and former Secretary of State Hillary Clinton's frontrunner status in both the Democratic party and the general public for a 2016 presidential run, there's a good chance she'll be the one to make a female presidency "happen as soon as possible." But Clinton has not yet announced a definitive run, and as Obama says, there are "some options" to consider.
Another popular, potential candidate is Sen. Elizabeth Warren (D-Mass.), the first-term progressive who could fill the populist shoes of John Edwards. There aren't clear female candidates on the GOP side, though Arizona Gov. Jan Brewer, South Carolina Gov. Nikki Haley, New Mexico Gov. Susana Martinez and former VP candidate Sarah Palin have all been brought up.
As for Obama herself, she ruled out the possibility of seeking office after her family leaves the White House. "No, it will not be political. No, it definitely will not be," Obama in the interview. "It will be mission based. It will be service focused."
Falling behind on the international stage: While Barack Obama made history when he became the first African-American president of the United States, there hasn't been a single female among the 43 leaders who have taken the title — and it's starting to look bad, especially when you compare it to the rest of the world:
Image Credit: Business Insider
Although South America, Europe and the Asia-Pacific region have made significant strides in female leadership, the same cannot be said for the U.S. And it looks like Americans are ready for a change: A Gallup poll in March found that for nearly 20% of Americans, the top selling point for a Clinton presidency is the fact that it would set an historical precedent. If the Republicans want to challenge Clinton's frontrunner status, having a strong female candidate might be the way to go.
Image Credit: Gallup