Vancouver Enacts Groundbreaking Protections for Trans Students That the U.S. Has Struggled to Do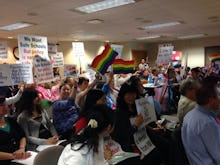 "We need to do this."
That was the argument that ultimately carried the day in Vancouver, British Columbia, last week, as the Vancouver School Board voted to create new protections for transgender and gender non-conforming students in their region.
The policies, passed following a series of heated debates between the board, its community supporters and opponents, center around the use of restrooms and locker rooms, as well as confidentiality agreements and the use of gender-neutral pronouns.
The first part of the new two-pronged policy is an allowance that will be given to students who would prefer to use a "genderless washroom," hopefully ameliorating the psychological unease transgender students experience when trying to use gender-specific restrooms. 
As 15-year-old Vancouver's Lord Byng secondary trans student Dominic Duff attested,the policy will help him, as well as all genderqueer individuals who attract unwanted attention for their gender expression, feel more comfortable moving in and through private spaces.
"You can't use the female washroom because someone's going to yell at you because you look like a guy, right?" Duff told the Vancouver Sun. "And if you use the male washroom, someone's going to yell at you because you're not technically a guy ... you don't feel safe there, either. Usually I use the handicap washroom, which isn't really the best thing, either."
The policies will also allow the students to play on the sports team of the gender they identify as, and will not legally required to reveal any gender-related issues their students might be experiencing.
The second part of the policy concerns the use of gender-neutral pronouns. Now, children who feel that their gender expression may not align with their biological sex will have the right to be referred to as "xe, xem and xyr" instead of the gender-binary terms "he or she," "him or her" and "his or hers."
Vancouver transgender activist Drew Dennis justified the availability of these pronoun options in the context of gender non-conforming individuals who feel their identity has no linguistic parallel.
"We've all grown up with the idea that there are just two genders," Dennis told the Sun. "When you're trying to be who you are in the world, it's very hard when you're not seen how you feel. "If you are able to come out and be who you are and actually be supported at school, what a wonderful thing."
Although veteran LGBT and gender theorists have been discussing the use of non-binary pronoun alternatives for some time — books like trans Kate Bornstein's Gender Outlaws, Riki Wilchins' Read My Lips and Leslie Feinberg's Stone Butch Blues signaled the beginning of the Preferred Gender Pronoun Movement — the next generation of youth are increasingly attempting to bring the conversation into the North American mainstream. 
But the policies are not without controversy. Indeed, the board meetings grew heated on several occasions, with necessitating security guards and police officers as opponents of the policy could be hear shouting "liar" at trustees.
"Children are very impressionable," Cheryl Chang, head of Lord Byng's parent advisory council, told the Sun. "And [they] can be led in a certain direction and if anyone's going to lead them in directions, it should be their parents, not teachers."
What remains to be seen, of course, is the effect — if any — this school board's rather landmark decision may have on other schools in Canada, and perhaps even the United States. Officials in the U.S. have made some strides toward trangender equality in academia — clarifying the question of whether transgender students were protected from discrimination on the basis of Title IX being one — but far too many transgender students continue to feel unsafe and harassed in the classroom and on the playground.
Perhaps the Vancouver decision will spur other districts to more carefully consider how their institutional practices foster tolerance and respect for all their students, regardless of sexual orientation of gender identification.