All Statistics Point to One Place Where LeBron James Will End Up Now That He's a Free Agent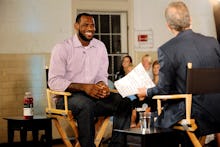 LeBron James opted out of the last year of his contract Monday and will become a free agent on July 1. It's a complicated situation for the Miami Heat, as teammates Dwyane Wade and Chris Bosh also have the option to opt out and have until Monday to decide. For now, all eyes are on LeBron, and according to one sportsbook, here are the odds of where he will end up next season. We take a look at each of them and present the pros and cons.
Miami Heat
Odds: 1-to-6 (61% chance)
Pros: Many believe LeBron has opted out simply to renegotiate terms with the Heat. There's familiarity in South Beach, with his running mates Wade and Bosh, and also with Pat Riley and Micky Arison at the front office and ownership level. Despite a disappointing NBA Finals loss to the Spurs, the Heat are just the third team in league history to make four consecutive NBA Finals. If the Big Three return, and Riley can shore up the supporting cast, they will enter next season as the overwhelming favorite to win the East again.
Cons: When LeBron signed with Miami in 2010, he was teaming up with a top 10 player in Wade. That player does not exist anymore. At times in the playoffs, it felt like LeBron was back in Cleveland again, having to carry his team on both ends of the floor. It's not going to get easier as the 32-year-old Wade ages, which figures to be a huge consideration for LeBron as he decides whether to come back.
Cleveland Cavaliers
Odds: 5-to-1 (12% chance)
Pros: All the acerbic feelings from leaving his hometown team behind in 2010 have softened. The jersey burnings, the vitriol about how he bailed on his team: It will all be water under the bridge. The entire city is not bitter toward LeBron, but there's a huge subset of the fanbase who are still upset. The King coming home to guide them back to contention would be an irresistible storyline.
Cons: Even with three No. 1 overall draft picks since LeBron's departure (including this year's), the Cavaliers are still a mess. They have Kyrie Irving, an incoming first overall pick, but after that, a lot of question marks. There will be a honeymoon period if LeBron returns, but when the games start, the city might realize the team still has a lot of question marks.
Los Angeles Clippers
Odds: 7-to-1 (9% chance)
Pros: LeBron has never played with a point guard as talented as Chris Paul. He'd also have Blake Griffin as a running mate. On paper, this would be a very scary team. On top of that, he'll get to succeed in the same town that Kobe Bryant owns, which would give us a fascinating storyline and continue the Clippers' ascent to the top of the Western Conference.
Cons: The transition from Donald Sterling to new owner Steve Ballmer remains up in the air, as more court dates and potential lawsuits are ahead in the coming months. It's unlikely the situation will resolve itself by the start of next season. LeBron wants to contend, and win now, and until everything is settled, this remains a huge question mark and potential distraction for the franchise.
Houston Rockets
Odds: 10-to-1 (6% chance)
Pros: The argument can be made that James Harden and Dwight Howard are the younger and better version of Wade and Bosh. General manager Daryl Morey is extremely creative and aggressive in accumulating assets, and landing LeBron would immediately vault them to the top of the Western Conference. LeBron would also get to compete directly against the Spurs in the same division, if he wants to make sure he gets revenge for what happened in this year's Finals.
Cons: Harden's defensive play leaves a lot to be desired, and we all remember how frustrated Kobe was with Dwight. Will these same issues come to the forefront if LeBron goes to Houston and the team is expected to win the championship? Also, how will the supporting cast look like if Morey has to gut the roster to acquire LeBron? He could find himself in a situation where he's competing in a tougher conference without the depth required to navigate through an 82-game schedule.
Chicago Bulls
Odds: 15-to-1 (4% chance)
Pros: Assuming Derrick Rose returns healthy, he'll be playing with a very strong second option at point guard, along with the Defensive Player of the Year in Joakim Noah. Coach Tom Thibodeau has shown in the past several seasons that he is capable of guiding a less than ideal roster to the playoffs. You can only imagine how far this team can go if they add the best player in the league.
Cons: Assuming Rose returns healthy is a very dangerous thing. If Rose is not the same player, and Noah — who will be turning 30 soon — regresses, LeBron will spend the remainder of his prime years with a team that struggles to stay healthy.
Los Angeles Lakers
Odds: 25-to-1 (3% chance)
Pros: LeBron will help the Lakers transition into life after Kobe and help revive a brand that has fallen behind the Clippers in the L.A. hoop hierarchy. The team does not have the most equipped roster to contend, but if he wants a challenge, this is it.
Cons: Similar to Rose in Chicago, there's no telling whether Kobe will be the same player again. If things fall apart, LeBron may have to wait several years before the team can rebuild the roster to contend in the hyper-competitive Western Conference. If his goal is to win now, the Lakers make very little sense unless they're able to pull off several more surprising moves in addition to landing LeBron.
New York Knicks
Odds: 25-to-1 (3% chance)
Pros: There's not too much here. The entire narrative of the best player in the world playing at Madison Square Garden and rejuvenating the Knicks fanbase would be very appealing. If LeBron can guide the Knicks to a title, he will be immortalized in the city of New York forever. Even though Phil Jackson is in a front office role now, LeBron will still be able to learn a lot from one of the greatest coaches in league history.
Cons: Given the current Knicks roster, it is very unlikely they would be able to compete in the East. James Dolan is still the owner, so odds are he would find a way to mess it up even if he got his hands on the best player in the world.
Dallas Mavericks
Odds: 30-to-1 (2% chance)
Pros: Since the lockout, Mark Cuban has been angling to land a superstar to pair with Dirk Nowitzki as he enters the twilight of his career. If he lands LeBron, you can bet Cuban will make other moves to ensure the Mavs return to relevance. LeBron will also take comfort in knowing he'll be playing for a world-class organization.
Cons: Dirk continues to defy Father Time, but the future Hall of Famer just turned 36 and a pairing with LeBron may not be enough to compete against the likes of San Antonio, Oklahoma City, the Los Angeles Clippers, Golden State and Houston in the Western Conference.