These 13 Muslim Americans Took on One of the U.S. Government's Most Troubling Policies — And Won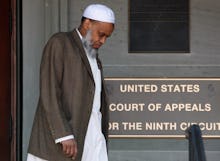 One of the staples of "War on Terror" America is over.
The news: A federal judge ruled the no-fly list unconstitutional on Tuesday, validating the arguments of 13 Muslim Americans, including four U.S. military veterans, who sued in 2010 after being told they were on the list.
At issue was the lack of a way for those placed on the list to petition for removal. "The court concludes international travel is not a mere convenience or luxury in this modern world. Indeed, for many, international travel is a necessary aspect of liberties sacred to members of a free society," District Judge Anna Brown wrote in her ruling. "Accordingly, on this record the court concludes plaintiffs' inclusion on the no-fly list constitutes a significant deprivation of their liberty interests in international travel."
The case: The 13 plaintiffs each have their own horror stories about trying to fly. One Army veteran who lives in Chicago flew to Colombia in order to marry his wife. After being questioned by the FBI numerous times, he was only able to get to the U.S. after a two-week trip that included bus rides from Panama City to the border. On the way, thanks to his status, he was questioned by authorities in Honduras, Guatemala, El Salvador and Mexico.
Another veteran, a former Marine, lost his monthly disability benefits after he was not permitted to board a flight to the U.S. from Egypt. A less extreme, but even more baffling, case came when another Marine veteran was not allowed to fly from Chicago to Spokane, Wash., to meet a client for his dog training business.
None of them received any notice of being placed on the list, nor any information about what got them there.
What it means: While the government argued that the individuals on the list could seek relief from a U.S. appeals court, that was somewhat undercut by Americans not knowing they were on the list until they were barred from flying and sometimes stranded in a foreign country.
The U.S. can keep the list around, but it must change procedures to inform residents that they're listed and give them evidence as to why. They must also be presented with a way to submit evidence and challenge the designation.
Whether you're returning from overseas or just trying to train a dog in another state, it's good news all around.