A 4-Year-Old Foiled a Burglary Plot and Taught Us a Valuable Lesson About Racism in the Process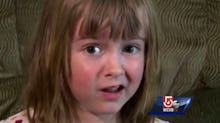 The news: Abby Dean's 17-year-old babysitter is not a criminal mastermind.
That makes it extra disturbing that her plan almost worked. On June 18, the sitter and Abby, who is four, were alone in the Dean family's Washington, Wisc., home when two burglars broke in and stole an iPod, Xbox and Wii consoles.
It seemed like a routine B&E until the sitter called the police. She described the intruders as two armed black men, one of whom "looked like" the Dean family's neighbor, Cody Oaks, a black man. The cops responded by sending an entire SWAT team to Oaks' house and questioning him for hours.
There was only one problem: According to Abby, the intruders were white.
"It wasn't the right skin color," the 4-year-old said, disputing her babysitter's description. As the sitter eventually confessed, the burglars were her 16-year-old boyfriend and an accomplice, and the three of them had planned the crime together.
"Literally in 30 seconds she changed everything that had been going on for five, six hours," said Jennifer Dean, Abby's mother.
"That was really her being bad," said Abby. "She's not a good babysitter."
Well played, Abby: Mark this as one of the few times the "blame a black guy" trick didn't work.
Literally. The Exoneration Registry at the University of Michigan Law School and Northwestern University School of Law estimates that 50% of wrongfully convicted inmates are black, and 90% are male.
"In most cases we never learn about them," said Samuel Gross, editor of the Registry. "The defendants serve their time and try to put it behind them or die in prison. In those cases that we do we find out about years after the fact, sometimes decades after the fact, it's very hard to go back and figure out what happened."
And: To make matters worst, this isn't the first time Wisconsin has made the news for its race-related woes.
The Annie E. Casey Foundation, a charitable organization dedicated to family issues and well being, recently dubbed the Badger State "the worst place in America to raise black children." According to their study, Wisconsin boasts the most pronounced educational and socioeconomic disparities barring black kids from achieving financial success.
Image Credit: Casey Foundation
Chronic poverty is a major contributor, no doubt fuelled by stark racial divides in cities like Milwaukee — the most segregated in the country:
Image Credit: Business Insider
On the Casey scale, Wisconsin scored a 238 in its ability to prepare black children for educational achievement and financially stable adulthood. The national average is 345, and the high is 583.
Image Credit: Casey Foundation
But: This is to say that 4-year-old Abby Dean provided a statistical anomaly when she told the truth.
Her wrongfully accused neighbor, Cody Oaks, is understandably upset about his treatment, but handled it with remarkable grace: "It's kinda sad 'cause I don't think [the babysitter] realizes the dangerous position she put me in," he said.
Meanwhile, Abby has no illusions about who's responsible for the return of her stolen property: "They got it back because of me being the superhero," she explained.
Her babysitter and her accomplices could face prison time. All in a day's work.
Antwaun Sargent contributed research to this article.