This Inspiring Women's Magazine Just Redefined the Meaning of a Cover Girl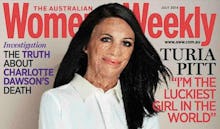 Traditional standards of beauty are simply no match for the inspirational example set by Turia Pitt.
The 26-year-old Pitt, a mining engineer and ultramarathoner who suffered burns to over 60 percent of her body while running in 2011, is featured on the cover of next month's the Australian Women's Weekly, redefining the phrase "cover model" in a pretty amazing way.
The magazine announced the selection of Pitt, who will be part of the magazine's annual Women of the Future scholarship awards, by calling her "quite simply one of the most impressive women you will ever hope to meet, Turia Pitt makes her debut this month on the cover of Australia's biggest-selling magazine."
Image Credit: Australian Women's Weekly
Pitt suffered her life-threatening injuries in September of 2011, after a bushfire raged through a 100 km race she was running in Western Australia. The life-changing movement [moment?] moved Pitt to become a motivational speaker and fundraiser for Interplast, a charity dedicated to helping victims in need of reconstructive surgery. Just in the last few months she has biked from Sydney to Uluru and swum a 20k race in Western Australia, and walked the Great Wall of China — all of it while raising funds for the charity organization.
"For eighty years the Women's Weekly has been celebrating inspirational Australian women," the magazine's editor-in-chief Helen McCabe said in a statement. "When Turia was photographed as part of our Women of the Future judging panel among a group of similarly impressive Australian women, it was clear from the moment she sat in front of the camera that the July cover had to belong to her. Any attempt to describe the magic and beauty of Turia seems to get lost in platitudes or clichés. Yet I have never met a more remarkable person."
"For me, it sends the message that confidence equals beauty," said Pitt about her selection. "There are a lot of women out there who are so beautiful but don't have the confidence. There are a lot of women out there who are so beautiful but don't have the confidence, and that's what gets you over the line."