One Meme Will Make You Love J.K. Rowling Even More Than You Already Do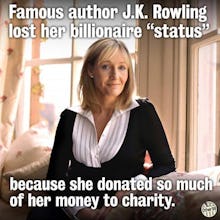 By now, J.K. Rowling's rags-to-riches story is famous. The woman who is now rumored to be worth more than the Queen of England began Harry Potter as a single mother living on welfare.
But while her success story is incredible, what's even more amazing is what Rowling, the first self-made billionaire author in history, has done with the bulk of the money she made from the Harry Potter books: she has given it away to charity.
In 2012, Rowling became the first person to fall off the Forbes list of billionaires because of charitable giving. She had given away an estimated $160 million to charity, what amounts to 16% of her net worth.
Image Credit: The Other 98%
In a 2006 interview, Rowling gave a little insight into her thought process about about her success, "It just seems, well, this came to me through doing the thing I love doing most. I suppose I feel I haven't suffered enough."
Of course, the reality is Rowling has suffered, and perhaps it is because of her previous financial hardships that she understands the need to give back. This is clear in Rowling's choice of charities, many of which support causes that have touched her life directly.
Image Credit: Imgur
Because of her struggle as a single parent, Rowling is closely involved with Gingerbread, a charity that provides childcare while helping parents discover job and education opportunities. Rowling also supports multiple sclerosis research, the disease her mother passed away from in 1990. Rowling's other causes include literacy efforts, supporting veterans and funding a short film about domestic abuse. She even founded her own charity, Lumos, which helps institutionalized and disadvantaged kids in Eastern Europe.
Rowling in a 2012 interview said, "You have a moral responsibility when you've been given far more than you need, to do wise things with it and give intelligently." But Rowling doesn't stop at simply donating her money to other causes. She donates her time, and even books themselves.
The Cuckoo's Calling, her most recent novel about a veteran detective, was written under the pseudonym Robert Galbraith. When British media firm Russells leaked that Rowling wrote the novel, sales skyrocketed. Instead of keeping the money, Rowling donated all royalties to the Soldier's Charity, an organization that provides support for British veterans. She made the donation "as a thank-you to the Army people who helped me with research, but also because writing a hero who is a veteran has given me an even greater appreciation and understanding of exactly how much this charity does for ex-servicemen and their families, and how much that support is needed." Rowling even concluded her legal proceedings against Russells with a settlement in which the law firm also gave a substantial donation to the charity.
Even before this novel unintentionally became a huge charitable fundraiser, Rowling wrote books for the specific purpose of making money for charity. A series of three books taken from the Harry Potter universe — Fantastic Beasts and Where to Find Them, Quidditch Through the Ages and The Tales of Beedle the Bard — has raised about $30 million for various charities.
When Rowling was knocked off the billionaires list, Forbes observed that Britain's high tax rate could have also contributed to her fall, but even this is an intentional charitable decision on Rowling's part. Rowling has often said that she feels indebted to the welfare state that supported her through her hard years, and for that reason she chooses to live in the country regardless of the high taxes.
In her 2008 commencement speech at Harvard, Rowling said that poverty "is not an ennobling experience. Poverty entails fear and stress and sometimes depression. It means a thousand petty humiliations and hardship."
Perhaps her success as an author and her focus on improving the world can both be attributed to her most incredible quality: her empathy.