The U.S. Soccer Coach Just Gave You the Perfect Excuse to Watch Today's Match Against Germany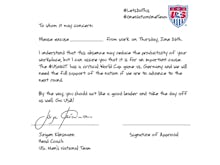 Have you, like millions of Americans, suddenly caught soccer fever? Is it harder to go to school or work this morning, knowing that you might miss U.S.A.'s final group match with Germany — which might be its final appearance in this year's World Cup?
Fear not, because you can have your own personalized excuse from work, courtesy of U.S. coach Jurgen Klinsmann. It has a signature and everything, so we are pretty sure this is sanctioned by the U.S. government and is completely official.
For those lucky enough to get off from work (or brave enough to secretly stream it on your computer), the game kicks off at noon EST today (Thursday) on ESPN. The U.S. is going into the game with one victory and one tie under its belt:
Image Credit: FIFA
And given FIFA's complicated rules regarding goal standings, there is a good chance that the U.S. might actually make it out of Group G, the so-called "Group of Death." We'll let soccer expert Stephen Colbert explain that one:
So what are you waiting for? Print out your excuse, turn on your TV and cross your fingers for one of the scenarios above.