Will Ferrell Crashed Team USA's World Cup Party and Now We Love Him Even More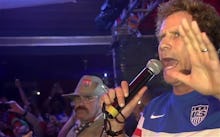 The U.S. soccer team got an inspired endorsement from unexpected quarters ahead of Thursday's critical group-stage clash with Germany in Recife, Brazil.
Will Ferrell crashed a World Cup pep rally Wednesday night in the port city, assuring the American fans on hand that he'd stop at nothing to ensure a U.S. victory -- though a draw (or even a loss) could see the team through to the knockout stage.
"I'm going to bite every German player I have to," Ferrell told the crowd.
Ferrell isn't the only star feeding off the unprecedented World Cup enthusiasm. A certain pro wrestling legend also threw his hat into the ring.