This Italian Superstar's Heartbreaking Response to Racism Captures World Cup Fandom at Its Worst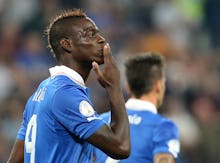 When Mario Balotelli joined Instagram two months ago, fans across the world expected the eccentric Italian soccer star famous for lighting fireworks in his own house to use the photo-sharing platform to make some jokes and show off his sports cars. Unsurprisingly, within days Balotelli had delivered both the gags and the brags.
But what the public probably didn't expect was for him to write a soul-baring response to a racially motivated criticism — an undue question of his very identity — that captures a young superstar struggling to cope with the suffocating backlash to Italy's disappointing exit from the World Cup. Balotelli, who was born in Italy to Ghanaian immigrants and raised by an Italian foster family, hasn't just been criticized for his performance, though — he has been criticized for not being truly Italian. Whatever that means.
Alongside an Instagram video he posted of an Italian fan saying "Mario, you're really not Italian. Go away," Balotelli responded at length on Wednesday:
"I'm Mario Balotelli. I'm 23 years old, and I didn't choose to be Italian. I strongly wanted [to be Italian] because I was born in Italy and have always lived in ITALY. I was really motivated for this World Cup and I'm sad, angry and disappointed with myself. … I'm not going to allow the blame to be placed only on me this time because Mario Balotelli gave his all for the national team and didn't do anything wrong [character-wise]. So look for another excuse because Mario Balotelli... is prepared to move forward stronger than before and with his head held high, honored to have given his all for his country. Or maybe, like you say, I'm not Italian. Africans would never cast aside one of their 'brothers.' NEVER. In this sense us blacks, as you call us, are light-years ahead. There's no shame on who misses a goal or runs less or more."
Criticism both of his race and on-field performance is nothing new to Balotelli, who has had to weather racist chants many times throughout his career while playing in Italy's Serie A. What's perhaps more surprising is for the 23-year-old to have been singled out by his veteran teammates as the scapegoat. "We need real men and not Panini pictures," Daniele De Rossi said after the team's elimination, in reference to a photo of collectible stickers Balotelli posted on his Facebook page during the World Cup. "Whoever doesn't feel like making the same effort and doesn't have the same passion should say so and stay home," Italian goalkeeper Gianluigi Buffon said.
Superficially, it might make sense to say that Balotelli does not have the same zeal for the Italian national side as some of his teammates. After all, how can he have that passion when so many of the Azzurri's fans have made their racial hatred towards him clear? But that's not the way Balotelli has played when he puts on the Italy shirt. 
Two years ago, Balotelli put together the best performance of any player in Euro 2012, single-handedly dismantling the favored German side in the tournament's semifinal round. Don't remember his first goal? That's OK, because no one could forget the second — and the subsequent celebration. Days later, Balotelli struggled to have an impact in the final against Spain but, reduced to tears after receiving the runner's-up medal, his emotional stake in the contest was laid bare.
Balotelli did not have an especially strong 2014 World Cup, but for him to be taking the brunt of the blame for Italy's elimination is absurd. In Italy's opener against England, after nearly scoring on a gorgeous chip shot, Balotelli went on to score the game-winner against the Three Lions. 
The striker missed a few chances against Costa Rica, yet the blame for that match lay primarily with the team's defense, which conceded three times to Los Ticos. In the final group-stage match against Uruguay, Balotelli committed a rash tackle to earn his second yellow card of the tournament and also suffered a minor injury. He was substituted at halftime reportedly because of a dispute with his coach in the locker room.
It wasn't Balotelli's petulance that ended up causing the Azzurri's downfall, though. Had it not been for a Claudio Marchisio red card — or if the referee had spotted Luis Suarez's bite — Italy likely would have drawn with Uruguay and advanced to the next round. 
So feel free to criticize Balotelli for his immaturity and his misses against Costa Rica. But don't say that he doesn't care.