Here's the Goal That Put Germany Ahead of the United States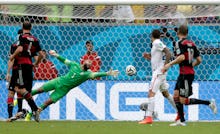 So much for Germany playing for a draw.
Thomas Muller's right-footed thunderbolt gave Germany a 1-0 over the United States in the 55th minute at the Arena Pernambuco in Recife, Brazil.
Germany dominated the run of play from the opening whistle, though the Americans had the occasional chance off the counterattack.
It was the 24-year-old's ninth goal in nine World Cup appearances, putting him level with such footballing legends as Eusibio, Paolo Rossi and Roberto Baggio.