Powerful Ad Will Wake You Up to What Society Is Doing to Young Girls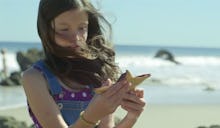 The news: If boys and girls both love dinosaurs as children, why are there so many fewer women growing up and studying science for a living?
A brilliant new Verizon ad released this week touches on one of the big reasons behind this unfortunate reality: the subtle ways society discourages young women from pursuing science careers.
Narrated by Girls Who Code founder Reshma Saujani, the commercial shows how parents might be gently dissuading young women from pursuing STEM hobbies, without even realizing it. Telling a girl to "let her brother" handle a home construction project, for example, sends the dated message that a certain type of work isn't "ladylike." Discouraging a daughter from playing in the dirt delivers the same idea.
This is a problem: An equal number of boys and girls profess a love for science, yet far fewer young women pursue jobs in the field. Women represent half the workforce, but make up just 26% of all science, technology, engineering and technology (STEM) professions.
So what is happening to girls during the transition from book reports to lecture halls? We know that men and women who are already in the sciences typically view young men more favorably than women — even if they are equally qualified. Women also tend to underestimate themselves when asked about their ability: In a University of Michigan study, women who were asked to rate their math skills just before taking a test did worse on the exam than their unquestioned peers.
Congrats, Verizon, for getting the message right. It's time to take women seriously. And it's never too early — or late — to start.