10 Reasons Why This Has Been The Best World Cup Ever (So Far)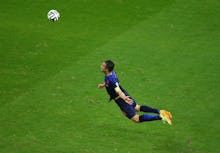 Forty-eight games down. Sixteen to go. Brazil 2014 -- at least so far -- has surpassed Mexico '70 and Spain '82 as the greatest World Cup ever played. Here's why.
1. Goals, goals, goals.
Goals make great games, and this World Cup has been made up almost entirely of netbusters. Brazil kicked us off with a 3-1 win over Croatia and the open play hasn't tightened off since. The numbers are remarkable: We've seen 136 goals, an average of 2.83 per match, from the very first minute to the dying seconds of stoppage time. The most goal-laden tournament since it became a 32-team event was France '98, which saw 171 in 64 games (2.67 per match). If it's perspective you want, try this: There were 145 goals at the 2010 World Cup in South Africa — a paltry 2.27 per game. Let's not talk about 1958, which saw an astonishing 140 goals in only 26 matches at a ludicrous 5.38 a pop. Presumably before defending was invented.
2. We've been treated to some classics.
You typically get the odd high-quality group stage game — think back to Slovakia's 3-2 Italy in 2010, a rip-roaring rollercoaster ride which saw the then-holders dumped out by World Cup debutants in last-gasp fashion. But the last two weeks have played out more epics than Steven Spielberg's CGI reel: Spain 1-5 Netherlands; England 1-2 Italy; Australia 2-3 Netherlands; Spain 0-2 Chile; Argentina 1-0 Iran; Germany 2-2 Ghana; USA 2-2 Portugal; Nigeria 2-3 Argentina ... Games that have ebbed and flowed, that have shocked and awed, that have delighted and dismayed. Truly, World Cup, you are spoiling us.
3. Comebacks are king.
Eight — yes, eight! — matches already have seen teams that were once losing turn things around to grab all three points, something that happened just three times in 64 matches in 2010. If eight doesn't seem like a lot, it's worth knowing the tournament record is nine, so there's plenty of time to set a new milestone. Despite the fact that many players have come to the World Cup off the back of long, tiring domestic seasons, absolutely no one is giving up or leaving anything out there.
4. It's in Brazil! (Where the soul of football lives.)
England might have given the world the beautiful game, but the Brazilians have long since adopted it as their own, and a World Cup in the most fanatical football country on Earth has been picture perfect so far. After waiting 64 years to welcome the world back, they aren't wasting their moment in the sun: The stadiums are packed and noisy, the street parties are fulsome and flamboyant and everyone — even the players! — look like they are having fun. Oh and it's staggeringly iconic, too. Can we play every World Cup in the Maracanã under the welcoming gaze of Christ the Redeemer with Sugarloaf Mountain as the backdrop, please?
5. The superstars have turned up.
Well, most of them. But it's hardly Cristiano Ronaldo's fault he's been a bit injured (and trying to carry a poor team). In the absence of seeing the reigning FIFA World Player of the Year at his imperious best, we've had to make do with breathtaking performances from Barca boys Lionel Messi and Neymar as well as the likes of Arjen Robben, Robin van Persie, Alexis Sanchez, Luis Suarez, Karim Benzema and Thomas Muller. Messi, we're constantly told, needs a great World Cup to join Pele, Maradona, Cruyff, Beckenbauer and Zidane in the pantheon of footballing greats; with four brilliant goals in three games, the little maestro is well on course.
6. The minnows don't look like minnows.
Costa Rica topping a group featuring three former World Cup winners with seven trophies among them? Iran holding mighty Argentina until the 91st minute? Chile dumping out the all-conquering Spanish? If you were a betting man, you'd almost certainly be destitute by now. Even more impressive than some of the results the lesser-fancied nations have produced are the performances — when Australia lost to the Netherlands or Bosnia at the hands of Argentina, there was hardly anything to separate them. And almost every game has been competitive; two of the biggest drubbings have been dished out to the bigger boys — Spain's hammering by Netherlands and Portugal's thrashing by Germany.
7. The officials have let the games flow.
Gone are the days of four red cards and 16 yellows from trigger-happy referees like we saw with Portugal-Netherlands at Germany 2006. The players haven't been particularly saintly this time around, but officials seem less keen to punish them for every indiscretion and more willing to let games flow without their constant interruption — a prime example being the brilliant advantage played by referee Ravshan Irmatov that allowed Switzerland to surge upfield and score a last-gasp winner against Ecuador in their Group E opener.
8. It's brilliantly unpredictable.
How many people have you heard say: "I genuinely don't know who's going to win the World Cup for the first time since [insert year]"? With so many of the pre-tournament favorites already back home after a succession of surprising results, the only predictable element of this competition is that nobody has any idea what's going to happen. Isn't that the whole point of sport?
9. No one's moaned about the heat.
It's hot, it's humid. But it's an international "summer" tournament in a warm country, so those conditions aren't altogether surprising. Fortunately the heat hasn't been as intense as in Mexico at the 1970 and '86 World Cups, or at USA '94 where temperatures surpassed 110 degrees, and it hasn't become a recurring talking point, much to everyone's relief. Maybe the thought of playing the 2022 competition in in Qatar has given everyone a little perspective.
10. It's the first "social media World Cup" and everyone is winning.
Not my words, but England legend Gary Lineker's. And how everyone has cashed in. From politicians to celebrities to governing bodies to media companies to brands, the 2014 World Cup has been played out on social media like never before. Missed a goal? There'll be a Vine on Twitter within seconds. Reckon the Van Persie header would make a good Instagram pic? Don't worry, someone will have already put it up. Want to get involved in the Suarez debate? It's already raging. If you're not part of the conversation, you're missing out. The best part is that it's almost impossible to miss anything. How did we ever cope before?