The 5 Best Moments From Thursday's Historic NBA Draft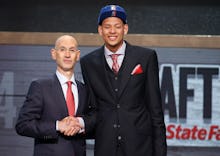 The 2014 NBA draft has long been heralded as the deepest class in years. While only time will validate that assessment, the intriguing picks, trades and historic moments did not disappoint. Here are the five key moments from Thursday's event at the Barclays Center in Brooklyn.
Isaiah Austin gets his name called
There are no shortage of feel-good stories at the NBA draft: To see the validation of a life's work and devotion to a craft is gratifying. But an especially heartwarming moment came out of one of the draft's sadder plotlines.
Austin, a seven-footer out of Baylor who had already overcome a serious eye injury that left him with a prosthetic right eye, was a projected first-round pick until a diagnosis of Marfan syndrome last week derailed his NBA dream. The inherited disorder affects the heart, eyes, skeleton and circulatory center, and continuing to play competitively would put his life at risk.
So between the 15th and 16th picks, NBA commissioner Adam Silver "drafted" Austin into the league. The ceremonial selection was met with a standing ovation, giving Austin — who was in attendance — a taste of the dream he fought so hard for. And it's since been floated that he might have a future in the NBA after all.
Team Canada breaks through
There were three Canadian players drafted in the first round, including the No. 1 overall pick for the second straight year in Andrew Wiggins. Nik Stauskas from Michigan (chosen eighth overall by the Sacramento Kings) and Tyler Ennis from Syracuse (18th, Phoenix Suns) joined Wiggins as draftees from north of the border. Never have there been this many Canadians drafted in the common era and never has a Canadian gone with the No. 1 pick two years in a row. Who says Canucks only care about pucks?
One-and-done continues 
Of the top 10 picks, six were "one-and-done" players — guys who played one year in college before jumping to the pay-for-play ranks. You can make that seven if you want to include 19-year-old Australian Dante Exum, chosen fifth by the Utah Jazz, who never played professionally or collegiately. Kentucky's James Young, who went 17th to the Boston Celtics, even garnered a fist pump from unabashed Boston fan Bill Simmons, completely unaware he was still on camera.
Draft-day dealing keeps things interesting
Creighton's Doug McDermott, one of the most prolific scorers in college basketball history, was drafted by the Denver Nuggets with the No. 11 pick, only to be shipped off to the Chicago Bulls for a pair of picks later in the night. Shabazz Napier, whom LeBron James openly advised Miami to draft, was picked by the Charlotte Hornets at No. 24 and immediately shipped to South Beach. By the end of the first round, no less than three picks were involved in trades.
No shortage of sleepers
Before Thursday night, few knew Bruno Caboclo, who went 20th overall to the Toronto Raptors. Even fewer knew Jusuf Nurkic (16th to Chicago), Bogdan Bogdanovic (27th to Phoenix) or Josh Huestis (29th to Oklahoma City). Caboclo was the MVP of last year's Basketball Without Borders tournament in Buenos Aires, while Bogdanovic and Nurkic were European stars. Only Huestis played collegiately in the U.S. at Stanford, but unless you're a hardcore basketball fan, it's doubtful he was on your radar.
As long as draftees like Wiggins can make better choices on the court than with their wardrobes, there's a chance this rookie class could have the same type of impact that the 2003 class of LeBron James, Dwayne Wade and Carmelo Anthony did.