The Median Age of Marriage in Every State in the U.S., in Two Maps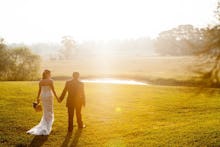 The news: Marriage in the U.S. seems to be less popular than ever. Barely half of all Americans are married, a record low for the country. 
In the meantime, the median age for a first marriage is higher than it's ever been and compared to past generations, almost half of millennials seem disinclined to tie the knot before they are well into their 30s.
Where are we getting married? While the nationwide trend shows millenials getting married at a later age, that doesn't mean it's true for every state. In fact, as the U.S. Census' five-year data proves, there are regional discrepancies in the average age of marriage. The social media site My Life put together a map using census data and as to be expected, people in cosmopolitan centers in the Northeast tend to get married older, while those in the South and the West tend to skew younger.
The oldest-marrying states are New York (28.8 for women, 30.3 for men), Massachusetts (28.8, 30.1), Rhode Island (28.5, 30.2), Connecticut (28.2, 30.0) and New Jersey (28.1, 30.1). But D.C. politicos seem to have the hardest time settling down, with the median age of first marriage at 29.8 for women and 30.6 for men.
As for the youngest-marrying states, Utah takes first place with the median age of 23.5 for women and 25.6 for men. Others include Idaho (24.0 for women, 25.8 for men), Wyoming (24.5, 26.8), Arkansas (24.8, 26.3) and Oklahoma (24.8, 26.3).
Check out the map below to see all the state median ages (and click here to view them in list form):
Image Credit: My Life