All 16 Teams Left in the World Cup, Ranked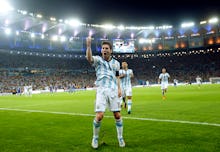 Half of the 32 teams who came to Brazil have been sent home. Here's a look at who's left as the World Cup moves from group play to a single-elimination format — and who's got the best chance of winning the tournament.
16. Greece (plays Costa Rica on Sunday)
Why they can win: Seriously? Well, the luck that scraped Greece through its final group game against Ivory Coast might hold. And they could surprise Costa Rica, who won't have experienced a team simply sitting back against them in this World Cup so far.
Why they can lose: The Greek team doesn't score enough goals, with its forwards either past their best (Georgios Samaras, Theofanis Gekas) or carrying an injury (Kostas Mitroglou).
MVP: It's hard to look past captain Giorgos Karagounis, Greece's passionate beating heart.
Best moment so far: Samaras' injury-time penalty to defeat Ivory Coast in the final group game.
Worst moment so far: Letting the floodgates open against Colombia to lose 3-0 in their opener.
Key stat: Greece has never advanced beyond the group stage until now.
15. Nigeria (plays France on Monday)
Why they can win: Nigeria had enough about them to defeat a talented Bosnia side and will be buoyed by striker Ahmed Musa's two goals against Argentina.
Why they can lose: France — Nigeria's round of 16 opponents — may have too much big-game experience for Stephen Keshi's relatively young side.
MVP: Goalkeeper Vincent Enyeama will have to have a great game if the Super Eagles are to advance.
Best moment so far: Musa's stunning first goal against Argentina.
Worst moment so far: Being held to a tepid 0-0 by Iran.
Key stat: Nigeria's defeat of Bosnia was its first win at a World Cup since 1998.
14. Switzerland (plays Argentina on Tuesday)
Why they can win: Their attack has the ability to fire. Seven goals in the group stage are proof that the Swiss — ranked sixth in the world — are strong going forward.
Why they can lose: Switzerland shipped five against France and has the offensive talents of Messi and co. up next.
MVP: Xherdan Shaqiri's hat trick in a 3-0 win over Honduras was a joy to watch, especially his stunning opener.
Best moment so far: Haris Seferovics stoppage-time goal to defeat Ecuador 2-1 in the opening Group E game.
Worst moment so far: The 5-2 loss against France five days later.
Key stat: Switzerland have never beaten Argentina in six meetings, losing four times and tying twice.
13. Algeria (plays Germany on Monday)
Why they can win: This is Algeria's first time out of the group stage and they will want to keep the attacking football, which won so many hearts in the 4-2 win over South Korea, going against Germany.
Why they can lose: Germany is pretty well set to pick off naive attacking fooball.
MVP: Sporting Lisbon striker Islam Slimani scored twice for Algeria in the group stage.
Best moment so far: The fourth goal, from Yacine Brahimi, against the Koreans.
Worst moment so far: Letting a lead slip against Belgium in the Group H opener.
Key stat: Their six goals so far is the most Algeria has ever managed at a World Cup.
12. Mexico (plays Netherlands on Sunday)
Why they can win: Mexico comfortably held Brazil in its second Group A game, so won't be fazed by the way Netherlands has scored freely so far. A 3-1 win over Croatia showed what the offence can do.
Why they can lose: History is against them — Mexico has exited at the round of 16 in the past five World Cups, stretching back to USA '94.
MVP: Coach Miguel Herrera is Mexico's fourth boss in a year, but his GIF-friendly infectious personality has earned him the enduring love of the Internet.
Best moment so far: That Herrera hug after Mexico's second against Croatia.
Worst moment so far: The controversy surrounding fans' chants in the opener against Cameroon.
Key stat: Herrera's salary of $213,000 is the lowest of any coach at this World Cup.
11. Uruguay (plays Colombia on Saturday)
Why they can win: Uruguay showed guts to come back from a disastrous first-game defeat to Costa Rica to beat heavyweight Europeans Italy and England. The in-form Colombians are up next.
Why they can lose: That Costa Rica game was the only one Uruguay played without star striker Luis Suárez, now banned from all forms of soccer for four months as a result of you-know-what.
MVP: With Suárez out, the pressure falls on Edinson Cavani to deliver the goals.
Best moment so far: Suárez's sublime winner to defeat England.
Worst moment so far: Perhaps worse than the bite itself has been the utter denial of it by the Uruguayan players and media, especially captain Diego Lugano's comments that television pictures showed "an approximation and nothing important." It's never a good look to piss off the Boss, either.
Key stat: The defeat to Costa Rica extended Uruguay's win-less run in opening World Cup games to six.
10. Costa Rica (plays Greece on Sunday)
Why they can win: Why not? After topping Group D, which Costa Rica went into as the presumed whipping boys, anything seems to be possible.
Why they can lose: Underdog stories tend to come to an end in World Cups and starting a game as favorites — which they will be against Greece — is an entirely different and more difficult prospect.
MVP: Joel Campbell scored Los Ticos' equalizer against Uruguay and has gone on to have a good tournament, worrying opposition with his pace and ability to pick a pass.
Best moment so far: Bryan Ruiz's winner in the 1-0 win over Italy.
Worst moment so far: For Costa Ricans, there hasn't been one.
Key stat: Los Ticos have only reached the round of 16 once before, losing 4-1 to Czechoslovakia at Italia '90.
9. USA (plays Belgium on Tuesday)
Why they can win: Getting out of Group G is an achievement not to be sniffed at and the motivated, hard-working Americans won't mind taking on a talented Belgium team that hasn't hit top gear yet.
Why they can lose: The USA's lack of raw talent will surely see them come unstuck against the really big teams, as it did in the final group game against Germany.
MVP: As the games get tighter, goal-scoring chances will become rarer and Clint Dempsey will be vital if the Americans are to take them.
Best moment so far: Jermaine Jones' goal-of-the-tournament contender to level the scores against Portugal.
Worst moment so far: Silvestre Varela's late equalizer to make the score 2-2 in the same game. Some cross from Cristiano Ronaldo, though.
Key stat: Dempsey has now scored in three successive World Cups.
8. Belgium (plays USA on Tuesday)
Why they can win: The Red Devils simply have too much talent not to at least reach the quarterfinals. But they have impressed in flashes and have only conceded once in three games, which will serve them well should they reach a last-eight matchup with Argentina.
Why they can lose: But flashes may prove to be all there is to this Belgium team. Without the injured Christian Benteke, they lack a cutting edge.
MVP: Rested for the final group game, Chelsea's Eden Hazard has the pace and trickery to cause the biggest teams problems.
Best moment so far: Dries Mertens' counter-attacking winner against Algeria showed how quickly Belgium can move the ball.
Worst moment so far: None of the first halves of Belgium's three games so far have been particularly impressive.
Key stat: Belgium's defensive record (one goal conceded) is the best of any European team at the tournament.
7. Chile (plays Brazil on Saturday)
Why they can win: Having made it out of a tough group, defeating the world champions along the way, Chile might feel they've done the hard work already.
Why they can lose: Brazil next. In Belo Horizonte. If they get through this, they might win the whole thing, but still...
MVP: Center-back Gary Medel will have to be at his best on Saturday to keep Neymar and the rest of Brazil's attack quiet.
Best moment so far: Charles Aránguiz's second against Spain, when a team realized the impossible was really going to happen.
Worst moment so far: A relatively tame defeat to the Dutch ensured the most difficult of second-round games.
Key stat: Chile last played Brazil at the World Cup in 1998's round of 16, going down 4-1 in a minor classic.
6. France (plays Nigeria on Monday)
Why they can win: The French, unlike four years ago, are together this time. And united French sides tend not to do too badly.
Why they can lose: You feel that they won't quite be able to live with the speed of Germany in a potential quarter final.
MVP: Having never netted at a World Cup before, Karim Benzema has scored three so far in Brazil and assisted twice.
Best moment so far: Moussa Sissoko's sweet finish was possibly the best of the lot in the rampant 5-2 demolition of Switzerland.
Worst moment so far: The 0-0 draw against Ecuador hinted at problems if France doesn't get an early goal.
Key stat: France have made the second-highest number of attempts on target at the tournament with 24.
5. Colombia (plays Uruguay on Saturday)
Why they can win: With nine goals so far, Colombia cruised through its group and made light of the injury to leading striker Radamel Falcao.
Why they can lose: A potential matchup with Brazil in the last eight is a huge obstacle for the Colombians to overcome.
MVP: James Rodriguez is arguably the player of the World Cup so far with three goals and two assists. A lot will rest on how he can perform against the tournament's stronger teams.
Best moment so far: It has to be the fourth goal against Japan — a delicate, intelligent finish from Rodriguez.
Worst moment so far: There really hasn't been one.
Key stat: Goalkeeper Faryd Mondragón came off the bench on Tuesday to become the oldest-ever player to appear at the World Cup at the age of 43.
4. Netherlands (plays Mexico on Sunday)
Why they can win: If you put five past Spain, three past Australia and then brush Chile aside with ease, you've got the ability to go all the way.
Why they can lose: The Dutch have previous when it comes to peaking too early. In Euro 2008, Netherlands beat Italy 3-0, France 4-1 and Romania 2-0 in the group, before losing to Russia in extra time in the first knockout game.
MVP: Arjen Robben, soccer's fastest old man, has the pace to trouble every team left in the competition. An injury to him and Dutch prospects look very different.
Best moment so far: Robin van Persie's diving header against Spain. What else?
Worst moment so far: Tim Cahill stealing some of Dutch legend Marco van Basten's thunder in Porto Alegre.
Key stat: Netherlands has committed 64 fouls so far, the most of any team so far.
3. Germany (plays Algeria on Monday)
Why they can win: With the ability to leave world-class players on the bench and Champions League winners everywhere you look, Germany has probably the best all-around roster in Brazil.
Why they can lose: Having lost three semifinals and one final in their last four major tournaments, there is a bit of a bridesmaid feel about Joachim Löw's Germany.
MVP: Thomas Müller's four goals in this tournament mean he has now scored nine in nine World Cup games.
Best moment so far: Müller's winner against the USA was pretty close to perfect.
Worst moment so far: The two goals conceded against Ghana exposed Germany's relatively weak central defense.
Key stat: Miroslav Klose's goal in the Ghana game pulled him level with Ronaldo (the Brazilian one) as the joint-highest World Cup scorer of all time with 15.
2. Brazil (plays Chile on Saturday)
Why they can win: It's Brazil at home in the World Cup. They pretty much have to win.
Why they can lose: They're stacked against South Americans in both the second round (Chile) and quarterfinals (Colombia or Uruguay), who will have more fans at the ground and will find the experience less alien than a European team would.
MVP: It's all about Neymar. The rest of the Selecao's attack hasn't really functioned and he's been behind everything good about Brazil so far.
Best moment so far: Neymar's cheeky finish for Brazil's first in the 4-1 win over Cameroon.
Worst moment so far: Croatia's script-tearing first goal in the tournament's opening game.
Key stat: The last time Brazil played South American opposition at home in a World Cup, it didn't end well.
1. Argentina (plays Switzerland on Tuesday)
Why they can win: One word: Messi. In case you hadn't noticed, he's been spent the past two weeks making those who criticized him for never having done it at a World Cup look pretty stupid. Plus, the South American teams are all on the other side of the draw.
Why they can lose: Messi's been fantastic, but the rest of the offense hasn't mustered a goal yet. Sergio Agüero is now out injured and the likes of Gonzalo Higuaín and Ángel di María will have to contribute at some stage.
Best moment so far: Do you even need to ask?
Worst moment so far: The time it took to break down Iran was probably more worrying than the two goals conceded against Nigeria. Argentina should expect some bus-parking over the next week.
Key stat: Argentina have won three games, and Messi's scored four goals. So far: perfect.