Thanks to the World Cup, Women in Iran Are Doing Something They've Never Done Before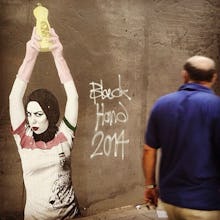 Thanks to the World Cup, some women in Iran have been doing something they've never done before: watching sports in public.
In 1979, after the Islamic Revolution, Iranian authorities banned women from most sporting events. To keep up the ban, the government warned restaurants and cafes not to show the games on television — otherwise, male and female customers might watch together.
Image Credit: bagherinarges/Instagram
The injustice is captured perfectly in the piece of graffiti seen above — a woman in an Iranian national team jersey holding up a bottle of dishwashing soap labeled "jaam," which means "cup."
Some restaurants, though, are ignoring the ban. "100% it's better this way," viewer Negar Valayi told CNN. "It doesn't happen often. It would be great if we have more of this."
Not just soccer: The World Cup showings come on the heels of a similar sports-related women's rights push. The Iranian volleyball team, ranked 12th in the world, is playing in Azadi Stadium in Tehran this month as part of the Volleyball World League qualifiers. Like soccer matches, these public volleyball matches have been closed to women.
The salt in the wound was that foreign women who showed their passports were allowed in by security. "They didn't cite a reason but I think it's because they didn't want to upset the hardliners," activist Jila Baniyaghoob told Reuters. "I mean, don't our passports have any value?"
While 50 Iranian women were arrested trying to get into the stadium, others snuck in with the help of opposing fans. They wore Brazil jerseys and tagged along with Brazilian families in order to get past security.
Change on the horizon? Some matches were open to women relatively recently. Former President Mohammad Khatami, who governed from 1997 to 2005, loosened restrictions and allowed women to watch volleyball.
When Mahmoud Ahmadinejad took office in 2005, though, the ban was reinstated.
Things might be shifting back now. President Hassan Rouhani, seen as much more of a moderate, announced an official investigation into whether women should be allowed to attend. Meanwhile, women will have to make due in coffee shops to get their community sports fix.