The Red Cross' Latest Controversy Will Make You Think Twice Before Your Next Donation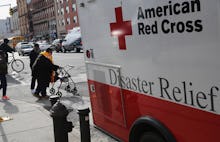 The news: Just how much do you trust the Red Cross?
It better be an awful lot, considering that the organization is refusing to let anyone know how it spent over $300 million in Hurricane Sandy relief funds. Though we'd like to think that a charity organization is doing nothing but good, ProPublica reports that the Red Cross is using "trade secret" arguments to avoid releasing information to the public about where the money went and why.
Lawyers for the Red Cross from the firm Gibson, Dunn & Crutcher were able to block much of ProPublica's request for public records, saying the documents contained "internal and proprietary methodology and procedures for fund-raising, confidential information about its internal operations, and confidential financial information."
The Red Cross' lawyer went on to specify that if the documents were disclosed, "the American Red Cross would suffer competitive harm because its competitors would be able to mimic the American Red Cross' business model for an increased competitive advantage." This despite the Red Cross' status as a public, tax-exempt charity and the group's federal charter enabling it to work beside government agencies like FEMA during major disasters. On top of that, since when is the American Red Criss worried about "competitive harm"? Isn't the goal just to help people?
ProPublica asked Ben Smilowitz of the Disaster Accountability Project whether this was typical. He responded that "Invoking a 'trade secret' exemption is not something you would expect from an organization that purports to be 'transparent and accountable.'" No, not at all.
Image Credit: Getty
A bit of a history here: The Red Cross has been accused of mismanaging funds before, notably by the New York Daily News, which reported in May 2013 that the organization was sitting on $100 million in emergency relief funding — seven months after the storm. The Red Cross said it was awaiting further information on where the funding was needed, but CUNY philanthropy expert Kathleen McCarthy told the paper that "People were cold. Homes mildewed. There wasn't enough decent housing. It's hard to understand the argument that, 'We are setting money aside.'"
More recently, ProPublica reported in April that the Red Cross was stonewalling requests for information about Sandy funds. The only information released was in which category spending was allocated, as well as various metrics of performance like meals served or emergency vehicles activated. It wasn't clear how much went to overhead expenses like the Red Cross' operating costs, which might include data like fund-raising costs or staff salaries. The Wire notes that CEOs left the Red Cross after funding controversies following the September 11 terrorist attacks and Hurricane Katrina.
Nationally, American charities spend about 36.9 cents of every dollar received on overhead. Charity transparency remains a major issue, even as some major NGO CEOs make large salaries.