The FDA Just Cleared a Revolutionary Device That Could Help Millions Worldwide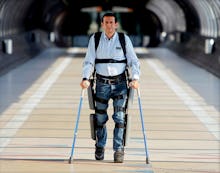 The news: A wearable, computer-controlled brace that has enabled dozens of Europeans with paralysis to walk won FDA approval on Friday.
The suit, produced by Argo Medical Technologies and sold under the name ReWalk, was created by Israeli inventor Amit Goffer, who lost the ability to move his arms and legs after an ATV accident in the 1990s.
Here's how it works: Someone using ReWalk would wear a fitted, metal brace to support her legs and part of her upper body and a remote control on her wrist. With a touch of a button, she would command the entire device to help her sit down, stand up or walk. Everything that powers the technology, including its computer and power supply, fits into a small backpack.
Since it was first introduced in 2011, dozens of people with paralysis have used the technology to walk, mostly in Europe, where the device won approval almost immediately after its release. In 2012, Claire Lomas, who is paralyzed from the chest-down, used the exoskeleton to complete the London Marathon. In the U.S., Marine Corps Captain Derek Herrera will be one of the first Americans to own ReWalk under the new clearance. "I see this as a milestone for people in my same situation who will now have access to this technology to experience walking again," he told ReWalk.
Image Credit: CNET
As of Friday, if you're not up for a trip to one of the company's eight stores in Europe, Israel or Japan, you can buy ReWalk at its single American outpost in Marlborough, Mass. Unfortunately, the device comes with a heavy sticker price. In the European Union, each exoskeleton goes for $75,000.
Why it matters: The new technology could go a long way in helping the more than 200,000 Americans who live with spinal cord injuries regain the ability to sit, stand and walk. Since 2011, they've been allowed to try out the device at a few rehabilitation centers across the country, but this will be the first time Americans will be able to buy and use the product on their own.
And as tempting as it may be, don't go trying to pull any Ellen Ripley-fighting-aliens business.