The Most Experimental Rom-Com in History Has Its First Trailer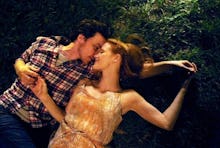 Have you ever felt like you were experiencing a movie through the eyes of the wrong protagonist? Writer and director Ned Benson certainly did, so he made three versions of his new movie The Disappearance of Eleanor Rigby. Those versions are The Disappearance of Eleanor Rigy: Him, The Disappearance of Eleanor Rigy: Her and The Disappearance of Eleanor Rigby: Them. One follows Eleanor Rigby (Jessica Chastain) and the other her partner Connor (James McAvoy). The final version blends the two narratives.
The film also stars Viola Davis, William Hurt, Isabelle Huppert, Jess Weixler and Bill Hader. 
Details are still scarce about this experimental way of filmmaking and the contents of the movie, but the trailer looks like it'll be a fantastic watch regardless of which combination of the three you decide to see. 
But what makes Eleanor disappear? What life-shattering events will test their relationship? And where do all the lonely people belong? Hopefully at least some of these will be answered when the movies are released on September 26.