If You Thought the World Cup Couldn't Get Better, Watch This Remarkable Dutch Goal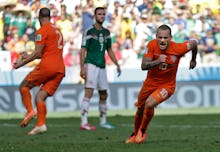 This was the absolute blast of a goal by Wesley Sneijder that crushed Mexico's World Cup dreams.
It came late in the game, with the Dutch down 1-0: On the Netherlands' 10th corner kick in the 88th minute, the ball was knocked to the top of the area.
Then it all fell apart: Minutes later in stoppage time, Mexico Captain Rafael Márquez then committed a costly foul against Arjen Robben, resulting in a penalty.
Klaas-Jan Huntelaar converted.
Within a span of 5 minutes, the script of the game completely flipped. Mexico was just 10 minutes away from one of their greatest World Cup wins in history. 
Mexico had shocked Netherlands with this goal in the second half of the round of 16 elimination game.
Throughout much of the game, the Mexicans were dominating the game, keeping the Dutch offense mostly stagnant. The Netherlands looked a step slower than their opponents in the humid conditions of Fortaleza, Brazil.
Some perspective: Mexico was an underdog in the truest sense, having scraped to even qualify the World Cup, but having since restored national pride with two strong good wins and a draw against powerhouse Brazil.
Meanwhile, the Netherlands — runners-up in the last World Cup — have been on fire, scoring 10 goals in its first three games of the World Cup. They've won nine World Cup games out of the last 10. The Dutch are seen as one of the elite teams of the tournament. 
That in mind, there was reason for Mexico's coach Miguel Herrera to celebrate his side's goal.
Alas, the Dutch move on to the quarterfinals after a hard-fought victory.
Editor's Note: This story has been updated to remove language that was used without attribution to the New York Times. We apologize to our readers for this violation of our basic editorial standards. Mic has put in place new mechanisms, including plagiarism detection software, to ensure that this does not happen in the future.