Video Captures a Man Setting Himself on Fire to Protest Japan's Remilitarization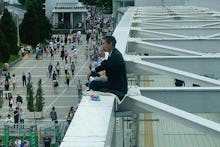 The news: Since Prime Minister Shinzo Abe's re-election in December 2012, Japan's right-wing turn towards remilitarization has led to several protests. Last Sunday saw perhaps the most disturbing yet when a man set himself on fire in the middle of Tokyo's busiest train station.
According to witnesses, the unidentified middle-aged man used a megaphone to speak for nearly an hour about Abe's efforts to weaken Japan's antiwar constitution. While onlookers took photos and videos of his appeal, the man suddenly doused himself with gasoline and set himself on fire.
Fortunately, firefighters were waiting nearby and were able to extinguish the flames quickly. The man was soon taken to a hospital to be treated for heavy burns.
Warning: Graphic video below.
What led to the protest? The man's attempt at self-immolation seems to coincide with the Japanese government's attempt to revise its constitution on Tuesday. As of now, the current law — which was drafted by the U.S. after World War II — forbids Japan from engaging in war or using force to settle international disputes unless it is directly attacked. The Abe administration is planning on adopting a resolution for a broader interpretation of this ban, which will allow for combat missions or assistance of allies abroad.
The resolution's supporters say Japan needs to flex more muscle in light of its ongoing maritime tiff with China. But critics argue that this is exactly the kind of move that will exacerbate the conflict. Ironically enough, the U.S. is reportedly backing the Japanese amendment to its decades-long ban.