The One Country Where Environmental Activism Comes With a Threat of Death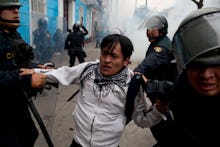 Death threats, rape threats, smears and stigmatization by the media, confiscation of equipment, electronic and physical surveillance, police using excessive force and arrests. 
And that's just the beginning: Once you're arrested, you can expect law enforcement to charge you with "rebellion, terrorism, violence, usurpation, trespassing, disobedience or resistance to an official order, obstructing police officers, abduction, outrage to national symbols, criminal damage, causing injury, coercion, disturbance or other public order offenses including obstructing roads."
These are the findings of a new report from the nonprofit Front Line Defenders (FLD). The report, "Environmental Rights Defenders at Risk in Peru," argues that human rights defenders (HRDs) and environmental activists in Peru face harsh consequences for publicly voicing their opinions. Police and military forces are willing to go to great lengths to disperse peaceful protests.
Even worse, Law 30151, passed in January, allows law enforcement brutality and even death. Essentially the National Police are granted "license to kill" and are "exempt from criminal responsibility" if they cause deaths or injury while on duty.
Image Credit: AP
Why is this in the spotlight now? After a five-year wait, a trial of 53 indigenous people in Peru started on May 14. The accused, mainly from Awajun and Wampís communities, are being charged with acts of violence and killing police officers based on their involvement in a 2009 peaceful protest against new laws that made it easier for "extractive industries to exploit natural resources in their territories," reported the Guardian. 
The Peruvian government had granted mining licenses in large sections of indigenous, rural areas. The effected indigenous communities worried about its impact on the region and their way of life. Community members demonstrated against the exploitation and were met with tear gas, bullets and beatings from law enforcement. Reportedly after the violence broke out, 23 police officers and 10 civilians died, while over 200 people were injured, "80 of which had been shot."
Eventually 400 protesters were arrested and still face legal battles with the mining companies. Meanwhile, no charges were brought against any law enforcement member for their actions during the protests. 
Although the "vast majority" of the cases have either ended in an acquittal or been dropped, the FLD asserts that the excessive filing of lawsuits is an abuse of the legal system and harms the suspects by ruining their reputations. 
Image Credit: AP
Why you should care: Because activists and protesters do not deserve such inhumane treatment, especially by armed forces that should be protecting them instead of brutalizing them. 
The FLD affirms that, "All documented instances of intimidation, death threats, physical attacks, surveillance, stigmatisation, smear campaigns, and judicial harassment appear to be directly related to legitimate and peaceful work carried out by the HRDs concerned, in particular in supporting the local communities opposed to mining projects and their impact on their environment, territory and livelihood."