How Four of Music's Biggest Players Created a Pop Star Out of Thin Air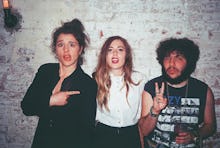 On June 10, Slate posted a quiz that tells you which song of the summer will be your song of the summer. The possible answers include all the likely candidates — Iggy, Nicki, Katy. It's a neat project, but it's too bad they didn't wait until June 24 to post it. If they had, an artist nobody had heard of would've been the answer for everyone.
Ryn Weaver's "OctaHate" was posted last Tuesday on SoundCloud by the previously unknown singer Weaver. The song is a sparkling collaboration created by Passion Pit's Michael Angelakos, Charli XCX, Norwegian DJ Cashmere Cat and super-producer Benny Blanco (who's penned hits for Kesha, Britney Spears and Wiz Khalifa).
In its first 24 hours, the song racked up more than 100,000 plays with help from tweets by Passion Pit (their last three are about the song), Charli XCX, Jessie Ware and Hayley Williams. It immediately debuted on Billboard's Emerging Artists (currently No. 5) and Trending Charts. And it's surpassed 600,000 plays now. (About 100 of those are me.)
The song, for its part, is unbelievably good. Weaver's voice positively shimmers, and the track is dripping with Angelakos' signature bittersweet synthesizer (notice how quickly things shift from plucky to pissed-off to melancholic). The lyrics are even half-cogent — remember, Blanco writes songs for Kesha.
The song is also unbelievably good in the literal sense. As in, how could something so perfect come from an artist with no name recognition, fans, or, in the 21st century, Internet presence? Weaver, who was formerly struggling young actress Aryn Wuthrich, emerged from thin air as a pop star.
According to Weaver herself, she stumbled upon fame at a cocktail party. In response to a troll in the Stereogum comments section (who, to be fair, was expressing some of the same anxieties I am right now), Weaver wrote: "i met benny [Blanco] at a party a year back and showed him my sound cloud ..." She presumably means this page, which was unearthed by another Stereogum commenter and features three tracks showcasing Weaver's pretty (if not a bit reverb-caked) voice.
She continues: "[Benny] had already been working with cashmere cat a bit… and he showed michael some of my music that I had produced and written on my own … and we all kinda just started to make some music."
Image Credit: Instagram
The process sounds laid-back enough, except that in a different comment, Weaver admits to travelling from New York to Los Angeles to record the track — not exactly band practice. Her explanation also glosses over Charli XCX's involvement, which is big, considering the singer's had her pipes in two of the most popular songs in recent memory (Iggy Azalea's "Fancy" and Icona Pop's "I Love It"). Though Charli doesn't sing on "OctaHate," (as if she needed to) Atlantic Records did tell Idolator she co-wrote the song.
Nobody's quite sure what Cashmere Cat did on the cut, but the same sleuthy commenter who found Weaver's old SoundCloud page (and her previous incarnation as an actress) also dug up this Cashmere Cat/Weaver collaboration:
Jessie Ware, who isn't credited with any role in "OctaHate," presumably promoted the track out of plain old kindness, though it is worth noting that she's one of the 78 people who follow Weaver's indie label, Friends Keep Secrets, on Twitter:
That, of course, means nothing unless you're a conspiring music blogger. But here's a photo of the two hanging with Blanco in New York, probably at a career-launching cocktail party:
Image Credit: Instagram
Weaver's publicist told Mic she wasn't available for an interview yet, but to stay tuned as there was "much more to come." In the meantime, all we can do is piece things together based on what she wrote on Stereogum:
"I'm actually broke as fuck. I dropped out of college to start making music, and was couch surfing … and i'm still couch surfing."
Based on Weaver's Instagram, the couch surfing thing might be true:
But there are a lot of MacBooks on that couch, there appear to be studio insulation panels on that wall and with the team Weaver's got behind her, she probably won't be broke for long. If that means more songs like "OctaHate," then that's a good thing.