This Woman's Journey From Teen Mom to Boss Has the Whole Internet Cheering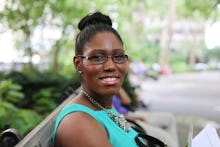 Far too often, teen motherhood is portrayed by the media in the context of lost opportunities, desperation and poor decision making. But these stereotypes only tell half the story. "Stigmatizing anti-teen pregnancy messages, so often tinged with racism, classism and sexism, end up placing a greater burden on a group of people who need the most support," Mic's Raquel Reichard noted recently.
Into this context appears the latest personal story featured on viral arts project Humans of New York (HONY). Although there is no name to go with face photographed by HONY photographer Brandon Stanton, her story of perseverance and love against systemic adversity has clearly struck a chord, amassing a whopping 1 million Facebook "Likes" in the first 24 hours it was published.
Image Credit: Facebook
The story has hundreds of thousands of people cheering for this particular "human," who became pregnant at age 16, which resulted in her getting kicked out of school and losing the faith and support of family and friends.
Every year, around 615,000 American women between the ages of 15 and 19 get pregnant, and although the pregnancy rate among black teens has decreased greatly in the past two decades, African-American women still have the highest rate of teen pregnancy, according to the Guttmacher Institute. This should surprise few, given research that ties socioecononic inequality — rather than, say promiscuity — to teen pregnancy.
But the story doesn't end there. The teen mom refused to give up, getting a job at a sporting goods store, then as a receptionist at a tax firm where she worker her way up to associate. From there, she was able to move to a new company, where for a pay cut, she was given responsibility over all company books. When the controller left the company, a golden opportunity opened up — with one caveat. We'll let her tell you the rest from here:
"They told me they couldn't officially call me the controller because I didn't have a college degree," she said. "So I finished my degree five months ago — just to make it official! So after having a child at 16, I made it all the way to controller of a company, without even having a college degree. Can you believe that? Honestly, I've been waiting to tell that story so long that I told it to a customer service representative on the phone last week. She was nice about it and pretended to care."
New York has always had a notorious reputation for being a place where you can be surrounded by masses of people yet feel deeply lonely. Even bon vivant Mark Twain wrote about this glaring dichotomy in the mid-19th century (in Letter to San Francisco Alta California, June 5, 1867), noting:
[New York] is a splendid desert — a domed and steepled solitude, where the stranger is lonely in the midst of a million of his race. A man walks his tedious miles through the same interminable street every day, elbowing his way through a buzzing multitude of men, yet never seeing a familiar face, and never seeing a strange one the second time. He visits a friend once — it is a day's journey — and then stays away from that time forward till that friends cools to a mere acquaintance, and finally to a stranger. 
The pressures of New York City are not just a 21st century phenomenon, it seems. And yet they are persistent enough to take note of and, for Stanton, something to make something of. 
HONY began in the summer 2010, with Stanton aiming to "create an exhaustive catalogue of New York City's inhabitants" by photographing 10,000 individuals and plotting their photos on a map of the city on his photo-blog. A few years in, HONY has become a nationwide sensation.
With over 6,000 photos taken and posted on his blog Stanton has rendered the city enchanting through portraits of its inhabitants. This latest story, which taps into some of those most primal of human emotions — survival, ambition, hope — is a testament to New Yorkers' desire to bridge Twain's "splendid desert," celebrating the successes of individuals as a way to create a sense of shared empowerment and community.