This Artist's Religious Paintings of Kim Kardashian Are Making A Lot of People Furious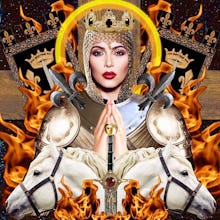 Kim Kardashian's image is everywhere: her face is all over social media, television, magazine covers and every corner of the Internet. But New York City-based graphic designer and artist Hannah Kunkle decided to bring Kardashian's likeness into a whole new realm: religion. For the woman married to Yeezus, it sort of makes sense.
Naturally, the response to Kunkle's work has been defined by a large amount of backlash, with some religious leaders speaking out against the collection. "The Passion of Kim Kardashian," which shows the reality star as the face of humanity's greatest goddesses collaged in a series of vibrant, psychedelic effigies, is in actuality depicting an element of human fascination as old as art itself — celebrity worship.
Image Credit: Hannah Kunkle
"It's deplorable. It's sacrilegious, irrelevant, and disrespectful ... it's idol worship," Pastor Reggie Stutzman, only one of the religious leaders enraged by the collection, told the New York Daily News. Kunkle just maintains that Kardashian is "the patron saint of pop culture."
Image Credit: Hannah Kunkle
Kardashian herself has had no say in this presentation as a devi as well as a diva. The decision was all Kunkle's, and she's far from the first artist to appropriate celebrity images to deliver a message.
Artist Russell Young famously edited images of supermodel Kate Moss and serial killer Myra Hindley together to make a point about celebrity hedonism. Just this week Charles Saatchi's own website was used to sell a portrayal of him throttling Nigella Lawson mashed up with images of Homer and Bart Simpson doing the same. Often these correlations are used to show the connections between the images we perpetuate as silly or unreal (Homer strangling Bart, the negative ramifications of Kate Moss being a role model) and their parallels in more earthbound, violent events.
It also must not escape artists that bringing in a celebrity face generates enough controversy to help publicize their work.
Image Credit: Hannah Kunkle
Other artists have been more active in drawing similarities between themselves and deities: Beyoncé's "Mine" video drew strong links between her and the Virgin Mary.
Image Credit: Fuse TV/Beyoncé
And Madonna, who can't seem to get enough of religious symbolism, recently Instagrammed an image of her in a metal niqab and her famous video for "Like A Prayer" featured burning crucifixes.
The appropriation of religious, historical and mythological symbols extends back centuries: Classical poets like Edmund Spenser loved to assert the English were the next generation of the Roman Empire due to King Arthur being the descendant of Emperor Brutus. He also allegorized Queen Elizabeth as a divine, mythical faerie. Portraitists of antiquity have often sought to portray their subjects as near to divine, even when painting themselves. What Kunkle is doing is not far removed from this classic tradition, and her logic at least makes sense.
Image Credit: Hannah Kunkle
"She's crazy bodacious and has the nose job of an angel," Kunkle told VICE. "I don't know if she's omniscient, but no one can deny she's not omnipresent. Kim floats above us all, even the deniers and the haters. We have accepted her into our lives via television screens, memes and Instagram feeds.
"If Jay Z is the father and Yeezus is the son, then she is the ever-present holy ghost of pop culture."