46 Corporations That Could Drop Birth Control After Hobby Lobby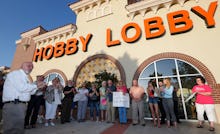 The effects of the Supreme Court's Hobby Lobby decision are already multiplying, and it could be bad news for women employed at dozens of companies around the country.
After the Supreme Court voted 5-4 in favor of exempting Hobby Lobby from offering birth control on its employee health plan, other companies will look to follow suit. Monday's ruling already affects 15,000 employees, and more companies opting not to cover birth control would likely impact thousands more.
The Daily Beast notes that at least 46 companies, along with even more nonprofits, have already filed lawsuits over the now-overturned contraception mandate. Most of these suits were stayed while courts waited for the Hobby Lobby decision.
These companies — in states including Illinois, Minnesota, Ohio, Missouri, Kentucky, Colorado and Florida — were: 
1. Tyndale House
2. Freshway Foods
3. Johnson Welded Products
4. Willis Law
5. Trijicon, Inc.
6. Barron Industries
7. Midwest Fastener Corp
8. Electrolock Inc.
9. Zumbiel Packaging
10. Encompass Develop, Design & Construct, LLC
11. Holland Chevrolet
12. Autocam Corporation
13. Dominos Farms
14. Mersino Management
15. Eden Foods Incorporated
16. MK Chambers Company
17. M&N Plastics
18. Mersino Dewatering, Inc.
19. Korte & Luitjohan Contractors, Inc.
20. Triune Health Group
21. Grote Industries
22. Tonn and Blank Construction
23. Lindsay, Rappaport and Postel, LLC
24. Hart Electric, LLC
25. Ozinga Brothers
26. O'Brien Industrial Holdings
27. American Pulverizer Company
28. Annex Medical Inc
29. Sioux Chief MFG. Co, Inc.
30. O'Brien Industrial Holdings
31. Bick Holdings Inc.
32. SMA LLC
33. QC Group
34. Feltl and Co.
35. Randy Reed Automotive
36. Doboszenski & Sons, Inc
37. Hastings Automotive
38. Stinson Electric
39. Hercules Industries, Inc.
40. Continuum Health Partnership & Connessione
41. Cherry Creek Mortgage Co.
42. Beckwith Electric Co.
43. Geneva College
44. Weingartz Supply Company
45. Sharpe Holdings, Inc.
46. Catholic Benefits Association
What companies are doing this? According to the Supreme Court, the ruling only applies to "closely held" companies. These are businesses in which 50% or more of the outstanding stock value is owned by five or fewer people, according to the IRS. This is often the case when a business is owned and operated by a single family, like Hobby Lobby.
A 2000 Copenhagen Business School study showed that 90% of all companies in the U.S. could qualify as "closely held." Whether or not companies can meet the definition will likely be a closely contested part of any lawsuits that move forward, according to the Wall Street Journal (subscription required).
Image Credit: Harvard Business Review
In her dissent, Justice Ruth Bader Ginsburg said that companies like candy maker Mars Inc. qualify as closely held, even though Mars oversees 70,000 employees. Mars has not sued over the contraception mandate, though companies like Ohio-based Freshway Foods and medical and transportation equipment manufacturer Autocam Corporation have.
Picking up the slack: As Vox notes, Justice Samuel Alito actually had some advice for President Obama in the Court's decision:
"[The government] could extend the accommodation that [the Department of Health and Human Services] has already established for religious nonprofit organizations to nonprofit employers with religious objections to the contraceptive mandate. That accommodation does not impinge on the plaintiffs' religious beliefs that providing insurance coverage for the contraceptives at issue here violates their religion, and it still serves HHS's stated interests."
See, the federal government already has an accommodation in place for religious nonprofits. They have to include birth control in their health plans, but the government will subsidize it. (That way, in theory, women get covered but the organization doesn't have to pay for Plan B with its own money.)
It's not a perfect solution, but it's one Obama may latch onto if the conservative-leaning court is leaving him an opening.
Correction: Oct. 28, 2014