There's a Massive Protest Against Chinese Authority Happening In Hong Kong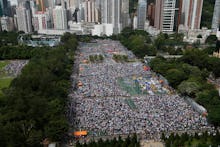 The news: Hundreds of thousands of people marched through Hong Kong's downtown financial district on Tuesday in a powerful demonstration for greater democratic rule in the city-state. Motivated by Beijing's recent affirmation of dominance in the region, the demonstration was one of the largest in Hong Kong's history.
Why are they marching? The protest comes days after 780,000 people voted on Sunday in "an unofficial referendum demanding democratic reforms in Hong Kong," reports NPR. However, Chinese authorities refused to recognize the vote.
The hoard of demonstrators voiced their frustration over the "white paper," a policy document released by China's Cabinet in June claiming China's authority over Hong Kong's autonomy.  
July 1 also marks a public holiday, Hong Kong Special Administrative Region Establishment Day, where protests have occurred annually since 2003. In 2003, the protest drew roughly 500,000 people — the biggest demonstration in the city's history — "when the combination of the deadly SARS virus outbreak and a six-year decline in the housing market produced widespread discontent," according to the New York Times.
One country, two systems: In 1997, China re-established its reign over Hong Kong from Britain. Beijing agreed to give Hong Kong a "high degree of autonomy" and promised universal suffrage.
The white document's release contradicts these promises. It claims China's central government supersedes Hong Kong's controlling powers.
Hong Kong residents' fury over the white paper is exacerbated given the 2017 election, which will decide the city's top leader. Part of the Basic Law, Hong Kong's constitution, "specifies that only a nominating committee can pick leadership candidates," reports Reuters. The people of Hong Kong want a direct say.
In response, a protest movement called Occupy Central commissioned the informal vote on Sunday to make the process of electing the city's official more democratic. While Beijing said that it "may" allow the universal suffrage Hong Kong wants, it also wants the jurisdiction to vet the candidates up for the vote.
What will happen now? Even though both Tuesday's protest and Sunday's informal vote saw unprecedented turnouts, the consequences of those actions may fall on Beijing's deaf ears.
Hong Kong has been relatively free from China by respecting the one country, two systems promise. Unfortunately though, China could see thriving Hong Kong as a threat. Retraining Hong Kong's power prevents the region from ever having control over their own system.