You Could Buy This Entire Town For Half the Cost of a Tiny New York City Apartment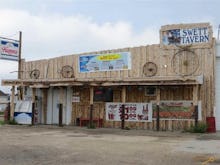 The news: An average Manhattan apartment costs about $865,000. But for less than half of that, you can purchase an entire town — three trailers, a small home and six acres of prairie land.
The tiny town of Swett, S.D., is on the market, and it can be all yours for a mere $399,000. Though it once had a population near 40 and its own post office, the town's population dwindled as residents moved to larger urban centers. The two lone citizens — three if you count their dog — are moving out. 
Image Credit: Curbed
Image Credit: Rapid City Journal
Image Credit: Curbed
It's just the latest example of the wild discrepancies between real estate in big, bustling cities and the rest of the country.  
Image Credit: Curbed
Concrete jungle where dreams are pricey: A pattern of migration to urban centers depleted Swett's ranks over the years. That may have brought down rent in small towns, but it did the opposite to major cities: In 1940s New York City, average rent was just $50 per month (which amounts to about $640 today), but by the 1980s, it had jumped to $1,700 per month. Now with average rents topping out at $3,000, New Yorkers are paying three times as much as the rest of the country, where monthly rent is about $1,000.  
The West Coast isn't great, either: According to a report from the National Low Income Housing Coalition, one must earn $29.83 an hour, or $67,046 a year, to afford a market-rate one-bedroom apartment in the Bay Area.
Image Credit: KQED News
The city also has the highest median rent of anywhere in the country; it's $1,463, compared with $932 in Chicago and $1,187 in New York. Prices don't show any sign of stopping, either. While national rents increased at a rate of 3% year-over-year, San Francisco's increased at 10.9%.  
Image Credit: The Economist
The takeaway: An emphasis on innovation, a high degree of cultural diversity, world-class music and art, access to anything you want, anytime you want — this is what people argue for when they defend the high cost of living for places like San Francisco and New York. In many ways, they're right.
But places like Swett prove just how unbalanced the situation has become. Cities may necessitate a little bit of wiggle room in terms of pricing, but they shouldn't be three times as expensive as other places in the country. All this does is make it more difficult for those outside of the upper echelons to succeed.
Residents of New York City and San Francisco might not be moving to South Dakota anytime soon, but that won't stop them from forlornly looking at the six acres of land from inside their 750-square foot apartments.