There's an Alarming Epidemic Stretching From Louisiana to Michigan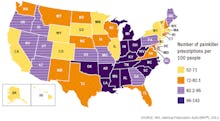 The news: Americans are hooked on pain killers.
The U.S. consumes far more opioid pain relievers, like Percocet and Vicodin, than any other nation. But the problem is far worse in some states than in others. In a strip stretching from Louisiana to Michigan, doctors write between 96 and 143 prescriptions for every 100 people, averaging more than one prescription per person. There's no national policy to govern how doctors should prescribe the drugs, from when to give them out to how many pills to provide and how long the treatment should last.
Researchers from the Centers for Disease Control and Prevention published an early edition of their comprehensive study of the problem on Tuesday. Southern states ranked highest for all individual opioids except hydromorphone, fentanyl and methadone. For those drugs, Vermont, North Dakota and Oregon led the pack.
Why it matters: Drug overdose deaths in the U.S. — 75% of which are the result of prescription painkillers — have been on the rise since 1990, with three times more people dying in 2008 than just two decades earlier. In 2011, nearly 17,000 people died after popping too many highly addictive pills.
Soldiers returning home from war take even more painkillers than civilians. A study released on Monday in the Journal of the American Medical Association estimates that 1 in 6 American veterans regularly takes opioids after returning from the battlefield.
The problem might have a simple fix: When doctors in New York and Tennessee were mandated to record all the prescriptions they wrote for highly abused drugs, prescriptions for those drugs plummeted. In New York, they fell 75% and in Tennessee they dropped by more than a third. Seems like an easy solution to a deadly problem.