Tim Howard Just Did What No Goalkeeper's Done in More Than 50 Years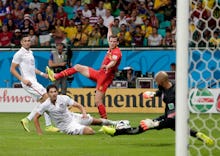 Tim Howard just did what no goalkeeper has done in more than 50 years in the United States' 2-1 loss to Belgium at the Arena Fonte Nova in Salvador, Brazil.
Howard made 16 saves — the most by any goalkeeper in the World Cup since the statistic was first tracked since 1966 — in a thrilling match that saw the U.S. eliminated from the round of 16.
The U.S. struggled to contain Belgium's attack, allowing 38 shots with 27 on-target. But Howard — an African-American-Hungarian from Central New Jersey who overcame Tourette syndrome to become one of the best goalkeepers in the world — single-handedly kept the Americans in the game.
After regulation ended in a scoreless tie, Belgium's Kevin De Bruyne finally broke through for a goal in the 93rd minute. Romelu Lukaku doubled the lead for the Red Devils in the 105th.
But the Americans wouldn't go quietly. Julian Green, a 19-year-old striker who plays for Bayern Munich, scored a gorgeous goal for the U.S. to become the youngest World Cup goalscorer since Lionel Messi in 2006.
After the final whistle, Belgium captain Vincent Kompany took to Twitter to praise Howard, who was named Man of the Match despite the loss.
The record-breaking performance came in what very likely was the 35-year-old Howard's last World Cup game.