One Woman's Heartbreaking Story Reveals Just How Awful Our Health Care System Is for Veterans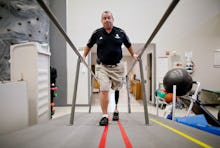 The news: On June 12, a Massachusetts woman named Suzanne Chase finally received a letter from the VA hospital in Bedford, allowing her husband, Doug, to schedule an appointment with a doctor. The problem: Doug, a Vietnam vet, had died two years ago from a brain tumor.
Back in 2012, the Chases contacted the nearby Bedford VA hospital to move Doug's primary care so that he wouldn't have to travel to Boston from their home in Acton. They never heard back, and four months later, Doug died. Suzanne then notified the VA, which denied her request for funeral benefits on the grounds that Doug was not treated at one of its facilities.
But the agency apparently forgot about all that; at the end of the letter, it reaffirmed its mission to provide care to its veterans on time. "We are committed to providing primary care in a timely manner and would greatly appreciate a prompt response," it wrote.
For Suzanne, the entire episode was a tragic comedy of errors. "I was in complete disbelief," she told WBZ Boston. "It was 22 months too late. I kind of thought I was in the twilight zone when I opened this letter and read it."
How can this happen? The Chases' story is unfortunately not uncommon. Continuing revelations have highlighted alleged gross mismanagement and criminal misconduct at all levels of the VA, from faking documents to keeping secret wait lists that hide how long it keeps veterans waiting. Even the FBI is launching an investigation, although Congress has asked for a full probe by the Justice Department.
Earlier this month, the Senate also approved a new bill to help veterans get help elsewhere so that they don't have to deal with the ridiculous wait times. The bill, which passed with overwhelming bipartisan support, will lease hospitals and hire hundreds of doctors and nurses to deal with the overflow.
These are all steps in the right direction — but for people like Suzanne Chase, it's all too little, too late.
"It is absurd," she said. "It made me angry because I just don't think our veterans should be treated this way."