This Man Has Recorded a Song Every Day Since 2009 — And He Finally Scored a Big Hit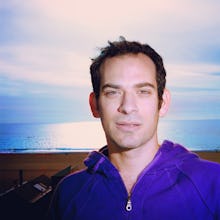 The Supreme Court decision in the recent Burwell v. Hobby Lobby Stores, Inc. sparked major controversy throughout the nation, but it also inspired a viral moment. Last week, a man posted a simply recorded song that he created from Supreme Court Justice Ruth Bader Ginsburg's scathing 35-page dissenting opinion. Social media and news outlets such as BuzzFeed and the Washington Post glommed onto the video. Salon covered it too, with a viral article titled "Someone just turned Justice Ginsburg's blistering Hobby Lobby dissent into a song."
But that lucky "someone" behind our latest RBG moment has actually been one of the most quietly insistent presences in American history and music for the last half-decade. Jonathan Mann has been quirkily documenting these years through a song every day and posting each on YouTube since 2009. This one was lucky No. 2,007.
As the 32-year-old Vermont native states in his 2011 biography video, "If you picked a random number between one and 1,000 and listened to the corresponding song, there'd be a 20% chance that song would totally suck. There's a 70% chance that song would be mediocre. But then there'd be a 10% chance — a glorious, 10% chance — that the song would be totally, completely awesome."
And the fact of the matter is that many have found of his songs to be awesome. He was invited to play song No. 77, about economist Paul Krugman, on the Rachel Maddow Show, and Steve Jobs used song No. 564, about the iPhone 4, as the opener to his "Antennagate" press conference (remember when the iPhone 4 used to drop calls if you held it a certain way?). Each time, everyone writes about Mann's songs as if he's just been discovered. He has his moments of intense fame and then fades back into blissful Internet anonymity.
That means that Mann is kind of the quiet unofficial balladeer of recent American history — the sucky days and otherwise. If you look back at some of the most meaningful days of the last five years, you'll notice that he's been in the background singing along:
On Aug. 31, 2012, he released "Clint Eastwood Talking to a Chair" (song No. 1340) about the strange moment at the 2012 Republican National Convention when Eastwood went on a long rant to a chair.
A few months later his 1,386th song, "Binders Full of Women," poked fun at former Republican presidential candidate Mitt Romney's famous statement regarding the lack of women who applied for positions in his cabinet.
Then there was "Fuxk the NSA" (song No. 1836), about the breaking news that the NSA was tapping phones:
And right before the Hobby Lobby decision, he released "Facebook Crossed the Line" (song No. 2,005) about Facebook scientists' experiment in which they attempted to manipulate Facebook users' emotions.
Like a modern-day (and actually real) Forrest Gump, Mann has been weirdly omnipresent in American history in his own, endearingly nerdy way. And in-between those big moments, he's kept listeners apprised of his personal life — his rattling-but-amicable break-up, and the times when he really just needs a room mate.
But it seems that Mann is not at all concerned with fame or using YouTube as the launching pad of his career, as many aspiring musicians often do.
"I'm not stopping 'Song a Day,'" says Mann in his bio. "Through the friends I've made and the places it's brought me, this project has been the most important of my life so far — and I'm hoping it's just getting started."
Mann has chosen a fast-paced, highly public medium, but he is completely unself-conscious about it. People have gotten plastic surgery to look better in selfies, but Mann is out there, every single day, being so unabashedly himself that it's hard not to like him. He's something you can count on, even when he's feeling under the weather. Trends and news come and go, but Mann stays, ever a positive center in a growing web. As he puts it, "Yes, sometimes I'm going to suck, but — and this is the important part — so what?"