Tim Howard's Incredible Yearbook Quote Perfectly Predicted His World Cup Greatness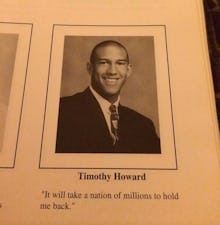 This proves that greatness starts early.
Photo credit: Peter Haskell/WCBS 880
Now-legendary U.S. Team goalkeeper Tim Howard's 1997 yearbook quote gives you chills, especially in context of what this man did on Tuesday.
Against Belgium in a desperate World Cup elimination game, Howard made 16 saves — the most by any goalkeeper in the World Cup since the statistic was first tracked since 1966. Just look at the assault laid on him.
Image Credit: squawka.com
But before Howard made history he was just a normal kid attending North Brunswick Township High School in New Jersey. Unlike other soccer stars who sign mega contracts with huge professional clubs early in their teens, Howard graduated from high school, then worked his way onto the MLS' New York Metrostars where he played for five years. But Howard, who was diagnosed with Tourette syndrome as a teenager, was also able to see his future back when he was a senior. He battled through his early career in America's MLS and gained notice of one of the world's biggest club's — Manchester United — where he was signed as their goalkeeper in 2003. He has since played in three World Cups and is one of the top goalkeepers in England, playing for Everton.
On Tuesday against Belgium, Howard faced his tallest task yet. He put in a historic performance. He left everything on the field.
"It will take a nation of millions to hold me back."
Words of wisdom.
... 
(Also, he's probably referencing this Public Enemy album.)