The First Trailer for 'St. Vincent' Is Here and It Includes Bill Murray at His Finest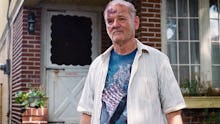 Trailers are starting to trickle in for the year's most award-buzzy films, and one early contender is Theodore Melfi's directorial debut, St. Vincent.
From what we can glean, Bill Murray continues his trend of playing lovable grumps, this time with his character St. Vincent de Van Nuys offering who offers to babysit the son of his new neighbor Maggie (Melissa McCarthy). Bonding and tender-hearted hilarity ensues.
Van Nuys, however, is a complete mess. He's drinking in the middle of the day, making Hitler jokes and introducing his new charge Oliver to his "lady of the night" friend, played by Naomi Watts.
None of this sits well with Oliver's mother, but we know they're all going to end up a dysfunctional but friendly family unit by the end of the movie. Right?
Even if the plot seems a bit About a Boy-esque right now, the trailer features some cracking dialogue from a cast of well-established comedy and quirky-movie actors. Naomi Watts seems ready to return to I Heart Huckabees levels of ridiculous, and it's fun to see Melissa McCarthy as the straightest straight woman she's played since Sookie back on Gilmore Girls. Even if Murray is playing somewhat to type, he also seems to be going back to his more anarchic earlier characters, rather than the basset hound understatement of his recent work.
This reach might bode well for Murray come awards season. Indiewire has already predicted this to be Murray's best shot at an Oscar since his nomination for 2003's Lost in Translation. With ludicrous but human characters and a feel-good vibe, St. Vincent might just be what gets Murray noticed by the Academy.
Sorry, Wes Anderson. You tried.
St. Vincent hits theaters on Oct. 24.