14 Brilliant Films You Can Watch in the Time It Takes to Eat Lunch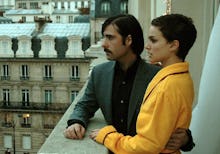 You might have noticed that movies are getting longer these days. A typical Hollywood blockbuster now runs well over two hours, and who has time for all that?
On the other hand, a well-made short film offers all of the same pleasures — story, spectacle, heart — and requires less of a time commitment. Plus, unlike with a Hollywood film, there is no formula for what a short film should be, meaning shorts are often richer in both creativity and originality.
In honor of short films, and more enriching lunch breaks, we've compiled some of the best under 15-minute movies. Who says your lunch break needs to be spent staring at your inbox? Trade in those minutes for beautiful filmmaking that you can enjoy in the same amount of time it takes to eat lunch. 
1. '7:35 in the Morning'
Have you ever watched a musical and considered how absurd the characters must be for breaking into song every few minutes? So has the creator of 7:35 in the Morning, an Oscar-nominated short from 2004. The seven-minute film is a clever subversion of the movie musical and packs more plot twists into its meager running time than most Hollywood features.
2. 'I Met the Walrus'
Beatlemaniacs, take note: In 1969, a 14-year-old boy snuck into John Lennon's hotel room and recorded a 5-minute conversation with the Beatle. Forty years later, director Josh Raskin animated Lennon's words into a psychedelic collage of ideas. Far from indulgent, the animation actually illuminates the meaning behind Lennon's difficult-to-follow train of thought.
3. 'The Big Shave'
In 1967, a young Martin Scorsese was at NYU film school, where he made this dark and compelling short. Originally conceived as an allegory for America's involvement in Vietnam (its original title was Viet '67), The Big Shave is a seemingly simple film of a man shaving in a pristine white bathroom — before it takes a typical Scorsese turn.
4. 'The Lamp'
Director Roman Polanski is notorious in Hollywood — both for his terrifying work (Rosemary's Baby) and terrifying personal life — but even the infamous start somewhere. It is perhaps no surprise that one of Polanski's first short films was a terrifying and funny little piece about a doll maker's shop that goes up in flames during a rainstorm. Polanski gets a lot of mileage out of the striking images of half-made dolls, but perhaps most impressive is the avant-garde sound design that drives the story.
5. 'Random Stop'
For police officers, every traffic stop has the potential to turn deadly. Director Benjamin Arfmann turned the true story of a deadly traffic stop into this heart-pounding 7-minute film. Shot from the point-of-viewPOV of the sheriff (who we see only in reflection), Random Stop is remarkable for its economy of storytelling and powerful performances.
6. 'A Trip to the Moon'
Considered by some to be the first science-fiction film, A Trip to the Moon was written and directed by the great Georges Méliès in 1902. The story is simple by today's standards, but the imagination and special effects on display were considered revolutionary at the time. The film made Méliès a legendary figure in the world of film; the shot of a spaceship crashing into the eye of the man on the moon is one of the most iconic in all of film history.
7. 'Don't Fear Death'
Actor/comedian Rik Mayall (from Drop Dead Fred, and TV's The Young Ones) passed away earlier this year. A piece of irony he might have enjoyed is that his last film credit was as narrator for Louis Hudson's wickedly funny animated short about the benefits of being dead. It is a cold blast of black comedy that provides some comfort in the fact that, wherever Mayall is now, he's not doing so bad.
8. 'Mis-drop'
Consider it a lesson in scale. You can see almost the entirety of an inter-galactic war on one man's face. Following a fresh, young soldier on a mission gone wrong, Mis-drop displays a mastery of narrative filmmaking technique. A mostly static shot on the soldier's face, the story, setting and even some character development are conveyed through brilliant sound design and seamless visual effects reflected on the glass surface of his helmet (the film's director Ferand Peek was a visual artist on The Hobbit). Mis-drop is an exciting 12 minutes that would make a good companion piece to this summer's big-budget blockbuster Edge of Tomorrow.
9. 'Gulp'
Before hitting it big with feature films like Juno and Up in the Air, Jason Reitman achieved success on the festival circuit with this short in 2001.  Even in a 7-minute film, Reitman's style shines through: The film is funny, sharply-edited and contains a surprisingly lyrical ending.
10. 'JohnnyExpress'
This darkly funny animated short out of South Korea this year finds a lazy space delivery guy wreaking havoc on a tiny alien population — without realizing it. With echoes of Horton Hears a Who, Kyungmin Woo's five-minute film is efficient, thoughtful and laugh-out-loud funny.
11. 'The Spirit of Christmas'
In 1995, a Fox executive paid two young animators $2,000 to make a video Christmas card he could send to his friends. Their names were Trey Parker and Matt Stone, and the short video they made — known as The Spirit of Christmas — was the precursor to 17 seasons and more than 240 episodes of South Park. In this very NSFW video, the gang — Kyle, Stan, Cartman and Kenny — and many of their trademark gags are already in place.
12. 'Hotel Chevalier'
This Wes Anderson short was meant to accompany 2007's The Darljeeling Limited. It features Jason Schwartzman in the same role, a young romantic getting over a lost love. Here, he is killing time in a French hotel room, when his ex-lover (Natalie Portman) pays him a surprise visit. There is not much plot here, but lots of delicious Anderson atmosphere, including, of course, a final slow-motion shot set to a great pop song. NSFW.
13. 'Unknown Soldier'
What is a music video if not a short film? The Doors made one of the world's first music videos back in 1968 when they set their anti-war song "The Unknown Soldier" to images of an urban landscape, the band members on a beach, and ultimately archive footage of masses celebrating the end of World War II. Fans of the band will love the music and the authentic footage of the group; Doors haters will love the part where Jim Morrison gets tied up and executed by firing squad.
14. 'For the Birds'
What would a list of top short films be without an entry from Pixar? For the Birds accompanied 2001's Monsters, Inc. and offers a nifty lesson in the pitfalls of conformity. As a clique of birds congregate on a telephone wire, a big, goofy outsider tries to join their party. They spurn his advances, and, well, you'll see who gets the last laugh.