There's One Huge Problem With Washington's Retail Weed Sales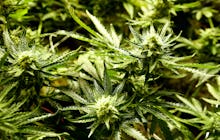 Washington state will start selling retail cannabis on July 8. But there's one big issue:
They're running out of weed.
Image Credit: AP
A state representative overseeing the rollout predicts there will be scant supply, which could lead to high prices for legal pot. Sanctioned weed-testing facilities, through which samples of all saleable weed must pass before they can be legally sold, have seen just two submissions so far. Stores are looking at their stock and wondering how it will ever hold up to the coming barrage of customers.
Image Credit: AP
How could this happen? For one thing, there are not nearly enough stores slated to open on July 8 to service the state's 750,000 pot smokers. Only 20 licenses are being awarded on July 7 in order to have stores open the following day.
The state initially laid out a plan for 334 stores statewide. It's possible that county bans on dispensaries will interfere with that number. Moreover, only 62 grow licenses have been approved, while thousands more await review. The state enacted a production cap for the state at 80 metric tons of weed for the first year, an estimated 25% of the market. In 2013, Washingtonians consumed between 135 and 225 metric tons of cannabis.
Image Credit: CNBC
The black market for weed may fill the gap. Once the limited supplies of state-approved weed run out, the black market will likely continue to thrive, despite the advent of legalization. Medical weed has been unregulated in the state for the past 16 years, allowing a clandestine market to thrive. With few measures taken to shore it up before rolling out retail sales, it's going to be hard to knock the system into organized, working order overnight. For customers, after the initial novelty of buying retail cannabis wears off, they'll realize they can get it cheaper if they get a medical card or go to a black market source, where they wouldn't have to pay a 30% to 40% tax.
In light of these options, retail weed may be simply impractical.
The takeaway: Washington state is shaping up to be legal weed's first big fail in America.